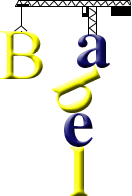 The Tower of Babel (Genesis 11: 1-9)
Serbian (Српски)
А беше на целој земљи један језик и једнаке речи.
А кад отидоше од истока, нађоше равницу у земљи сенарској, и населише се онде.
Па рекоше међу собом: Хајде да правимо плоче и да их у ватри печемо. И беху им опеке место камена и смола земљана место креча.
После рекоше: Хајде да сазидамо град и кулу, којој ће врх бити до неба, да стечемо себи име, да се не бисмо расејали по земљи.
А Господ сиђе да види град и кулу, што зидаху синови човечији.
И рече Господ: Гле, народ један, и један језик у свих, и то почеше радити, и неће им сметати ништа да не ураде шта су наумили.
Хајде да сиђемо, и да им пометемо језик, да не разумеју један другог шта говоре.
Тако их Господ расу оданде по свој земљи, те не сазидаше града.
Зато се прозва Вавилон, јер онде помете Господ језик целе земље, и оданде их расу Господ по свој земљи.
Transliteration
A beše na celoj zemlji jedan jezik i jednake reči
A kad otidoše od istoka, nađoše ravnicu u zemlji senarskoj, i naseliše se onde.
Pa rekoše među sobom: Hajde da pravimo ploče i da ih u vatri pečemo. I behu im opeke mesto kamena i smola zemljana mesto kreča
Posle rekoše: Hajde da sazidamo grad i kulu, kojoj će vrh biti do neba, da stečemo sebi ime, da se ne bismo rasejali po zemlji.
A Gospod siđe da vidi grad i kulu, što zidahu sinovi čovečiji
I reče Gospod: Gle, narod jedan, i jedan jezik u svih, i to počeše raditi, i neće im smetati ništa da ne urade šta su naumili.
Hajde da siđemo, i da im pometemo jezik, da ne razumeju jedan drugog šta govore.
Tako ih Gospod rasu odande po svoj zemlji, te ne sazidaše grada.
Zato se prozva Vavilon, jer onde pomete Gospod jezik cele zemlje, i odande ih rasu Gospod po svoj zemlji.
Listen to a recording of this text by Serbian Language and Culture Workshop
Information about Serbian | Phrases | Numbers | Telling the time | Tower of Babel | Learning materials
Tower of Babel in Slavic languages
Belarusian, Bosnian, Bulgarian, Church Slavonic, Croatian, Czech, Macedonian, Polish, Russian, (Old) Ruthenian, Serbian, Slovak, Slovenian, Sorbian, Ukrainian
Other Tower of Babel translations
By language | By language family
---
If you need to type in many different languages, the Q International Keyboard can help. It enables you to type almost any language that uses the Latin, Cyrillic or Greek alphabets, and is free.
If you like this site and find it useful, you can support it by making a donation via PayPal or Patreon, or by contributing in other ways. Omniglot is how I make my living.
Note: all links on this site to Amazon.com
, Amazon.co.uk
and Amazon.fr
are affiliate links. This means I earn a commission if you click on any of them and buy something. So by clicking on these links you can help to support this site.