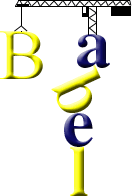 The Tower of Babel (Genesis 11: 1-9)
Central Bontoc (Finallig)
Nan Nanopingancha isnan Tori id Babel
Issan lapona, es-esang nan kalin nan am-in ay takho isnan lofong, et mismis-o nan kalicha.
Isnan cha khomeg-echan nan takho is apet falaan si akhew, ket ay inomchan cha isnan cheta id Babilonia ya inmili cha ischi.
Awni pay ke cha't natotya ay mangwanin, "Ali kayo! Khomaeb tako is madchalilyo ay poowan tako ay osto." Siya na nan kanancha ay itopingcha sa cha't ispartowan am-in nan nenfetfet-akancha. 4
Kinwanicha't, "Aye! Tomoping tako is ili ya nan tori ay at-atakchag ay omchan engkhana id chaya, ta machamchamag nan ngachan tako ya at ad-i tako masisyan isnan olay entona isnan lota."
Osto'y siya chi ket ay pinmanad si Dios Apo ay nangila isnan ili ya nan tori ay tinoping si takho.
Sa na't kanan, "Chey, esang chana ay takho ya esang nan kalicha, ya laplapona yangkhay na isnan semsemkencha'y angnen. Awni't makaangnen cha isnan isyangkhay sisa ay laychencha.
Khomwab tako et ta tekneteknen tako nan kalicha ta ad-i cha enkasiawatan."
Et siya chi ay sinisyasisyan Dios Apo chaicha ay nangiwalas ken chaicha isnan olay entona issa isnan lofong. Ya egay et natoloy san toptopingencha ay ili.
Nangadnan nan chey ay ili is Babel mo ke tay ischi nan naneknateknan Dios Apo isnan kalin nan am-in ay takho, ya nailapo ischi nan nangsisyanana ay nangiwalasana ken chaicha isnan olay entona issa isnan lofong.
Source: Nan kalin Apo Dios. Wycliffe Bible Translators, 1992.
Contributed by Wolfgang Kuhl
Bontoc is a Philippine language spoken in the Mountain Province in the northern part of the Philippines.
Numbers in Bontoc | Tower of Babel in Bontoc
More information about Bontoc
https://en.wikipedia.org/wiki/Bontoc_language
http://www.ethnologue.com/language/lbk
Tower of Babel in Philippine languages
Ata Manobo, Balangao, Bikol, Bontoc, Cebuano, Cuyono, Hiligaynon, Iloko, Ifugao, Itawis, Ivatan, Kagayanen, Kankanaey, Kapampangan, Keley-i, Kinaray-a, Malaweg, Maranao, Matigsalug Manobo, Pangasinan, Pangutaran Sama, Southern Kalinga, Tagabawà, Tagalog, Tagbanwa, Tuwali, Waray-Waray, Western Bukidnon
Other Tower of Babel translations
By language | By language family