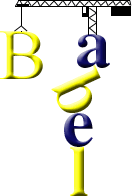 The Tower of Babel (Genesis 11: 1-9)
Tagbanwa
Iyan tagna-tagna' pa', paribasa it ese-esay pu'un it taw, esa-esa pa' gasi' i ampang.
Ta it magpanlekep na ngayti sirat banwa, na'lay na sirat kaya'mat it panaw nga ayun du'ut lebatan, nakaparag na sirat malayaw nga daranasan du'un it pagpangaranat Sinar. Pagkaparag nira, du'un nay tiya'idan nira.
Iyan nakati'en-ti'en na sira du'un, nag'upa-upakaten sira. Maat nira, "Esa-esa ga, muwat tamit dakel nga dakel nga padseneng lugta', lugta' ngayang magkabwat tang dakut. Paka'yawun tami nga banar isa'un demsen nga demsen." Piyadsen na ngayti nira nga lugta' i ganti nirat batu nga ipagbuwat-buwat it balay. Piyulitan nirat alkitran isa'un magdeke-deketen.
Pagkamuya nirat magkabwat sirat iting mga bagay, namag'upa-upakaten si' sira. "Esa-esa ga," maat nira, "magbuwat tamit magayeng lansangan baw patindeg tamit balay nga ega basta-basta i ka'abwat nga ka'but du'ut langit i alibubungan ya, isa'un matanug tami baw ega na matariwanak situt sinirungat langit."
Temed nanlampud i AMPU'ANG DIYUS nga subuk nanleteg it lansangan baw pagpa'abwatayen ngayting balay nga pagbuwaten nira.
Pagkalteg ya, maat ya, "Mga taw ngaytu, magkakayaan niray itung kabubwalan nira sabap esa-esay ampang nira baw urunyun sirang mu'sa. Ta, it atkayan, da'ga subra' na sikaytu i makayaan nira nga kabubwalan, nga ega na mapaaran sira it kumpur kubwaten nira?
Magayen adu'unun ta na sira ka belag-belagen i ampang nira, isa'un da'sira na magsepse-sepsepen it pag'aaten."
Ekay beken, tiyariwanak nat AMPU'ANG DIYUS i mga taw, nga garing du'un ilingkep na sirat mu'sang banwa. Aypa' ka natananan na niray pagbuwaten nira ngayting lansangan baw abwatay ngayting balay.
Aypa' sikayti'en piyangaranan it Babel i iting rugrar, nga ireg sugiden, nalibegan. Ka sikayti biyelag-belag it AMPU'ANG DIYUS i ampang it taw, baw du'un kayti i giyaringan it nagbelag-belagen na gasi' i taw ka ilingkep nat mu'sang banwa.
Source: Kamtuudan nga Ampang it Ampu'ang Diyus nga Magpatantu Pasar it / Kanya. Old Testament Portions and the New Testament in Tagbanwa. International Bible Society, 1992.
Contributed by Wolfgang Kuhl
Information about Tagbanwa | Tower of Babel in Tagbanwa
Tower of Babel in Philippine languages
Ata Manobo, Balangao, Bikol, Bontoc, Cebuano, Cuyono, Hiligaynon, Iloko, Ifugao, Itawis, Ivatan, Kagayanen, Kankanaey, Kapampangan, Keley-i, Kinaray-a, Malaweg, Maranao, Matigsalug Manobo, Pangasinan, Pangutaran Sama, Southern Kalinga, Tagabawà, Tagalog, Tagbanwa, Tuwali, Waray-Waray, Western Bukidnon
Other Tower of Babel translations
By language | By language family