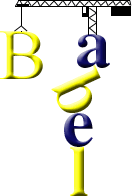 The Tower of Babel (Genesis 11: 1-9)
Ifugao (Batad)
Ayangan Ifugao (Batad Ifugao)
Hidin hopapna ya un ohay hapit hi pun'i'innawatan di tatagu.
Ya heden umayandah appit di buhu'an di algaw ya inah'upanda han nundotal an lutan ad Shinar, at hidiy bimmabluyanda.
Ya nunhahapitdan inaliday, "Malammung tu'u ta munduwin tu'uh mapeleng ta hay iyamma tu'u ya nan naduwin, ya linita tu'u ta way mida"it." Ya ente"adan mun'amma ta bo'on hay batu unu panag an way apulnay usalonda.
Ya inalida goh di, "Maphod hi un tu'u ipaphod heten babluy, at mun'amma tu'uh ata'nang an binattu ta nangamung umatam ad daya, ya manu ay aton tu'u ta mundongol di aat tu'u ta adi tu'u munhihiyan."
Mu tinnig Apo Dios nan babluy ya nan ata'nang an binattun iyam'ammada.
Ya inalinay, "Nan tatagu ya na'ohhada, ya un ohay hapitda. At ten ente"adan nun'ammah umat hitu at undan adida abalinan an aton di penhoddah ma'at. At udum di algaw ya ini ya atondan amin di pohdondah ma'at!
At umuy tu'u ta lummanon tu'uy hapitda ta numbino'ob'on ta adida mun'i'innawatan."
At inwa'at Apo Dios didah tun alutaluta, at agguy natuluy nan pangipaphodandah nan babluy.
At hiyah ne dimmalat hi nangadnanah Babel ti ginulun Apo Dios di hapitda ta numbino'ob'on. At inwa'atna didah tun alutaluta.
Source: The Bible in Ayangan Ifugao. TBL - 2010.
Contributed by Wolfgang Kuhl
Ifugao or Batad is a Malayo-Polynesian language spoken in the Ifugao Province in Luzon in the Philippines.
More information about Ifugao
http://en.wikipedia.org/wiki/Ifugao_language
http://www.ethnologue.com/language/ifb
Tower of Babel in Malayo-Polynesian languages
Acehnese, Adzera, Amarasi, Ambrym, Ata Manobo, Balangao, Balinese, Bambam, Bariai, Batak Angkola, Batak Simalungun, Batak Toba, Biatah Bidayuh, Bikol, Bola, Bontoc, Bugis, Caribbean Javanese, Cebuano, Chuukese, Dawan, Fijian, Futunan, Hawaiian, Helong, Hiligaynon, Hiri Motu, Iban, Ifugao, Iloko, Indonesian, Itawis, Ivatan, Jarai, Kadazandusun, Kagayanen, Kahua, Kambera, Kapampangan, Keley-i, Kenyah, Kinaray-a, Kiribati, Kosraean, Javanese, Luang, Madurese, Makassar, Malagasy, Malaweg, Malay, Māori, Maranao, Marshallese, Matigsalug Manobo, Mbula, Misima-Paneati, Mortlockese, Motu, Nali, Ngaju, Nias, Niuean, North Efate, Nyindrou, Paama, Pangasinan, Pangutaran Sama, Pohnpeian, Rarotongan, Rotuman, Sakao, Samoan, Saveeng Tuam, Southern Kalinga, Suau, Sundanese, Tagabawà, Tagalog, Tagbanwa, Tahitian, Timugon Murut, Tolai, Tongan, Tontemboan, Toraja-Sa'dan, Tungag, Tuvaluan, Tuwali, Ubir, Wandamen, Western Bukidnon, Yabem, Yapese
Other Tower of Babel translations
By language | By language family