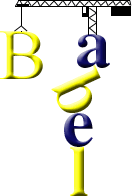 The Tower of Babel (Genesis 11: 1-9)
Keley-i
Yan laputu ey hakey ni ebuh hu ehel ni tuu.
Nem entanni et ida kamangkedakkel ey limmaw idad appit ni kasimmilin aggew, ey dinteng da nedeklan ni puyek di Babilonia, et mambebley idadman.
Et wada hakkeyey kanday "Mengapya itsun et-eteng ni bebley tayu. Ey behwaten tayu et-eteng niya eta-gey ni binattun baley et datengen tu kabunyan
et mandingngel itsu niya eleg itsu mawehit eyad puyek." Et ilepu dan mengapya.
Entanni ey immali Apu Dios et tu ang-angen hu daka pangkapyaan bebley niya etan eta-gey ni baley.
Ey kantuy "Huyyaddan tuu ey hakey ida niya hakey hu ehel da. Huyya keilleppuan ni pengippahdingan dan pinhed da. Et dammutun emin ali law hu pinpinhed dan pehding ey pehding da.
Itsuy, kelehbeng itsu et tayu pambakbaklang hu ehel da ma-lat eleg ida manhin-aawat!"
Et iwehit Apu Dios idad puyek et isiked dan mengapya etan ni daka pangkapyaan bebley.
Ya impangngadan dan nunman ni bebley ey Babel tep yadman nenimengan Apu Dios ni hi-gada e impambakbaklang tu ehel da et iwehit tudda eyad ta-pew ni puyek.
Contributed by Wolfgang Kuhl
Source: http://www.bible.is/IFYWBT/Gen/11
Keley-i is a Philippine language spoken in Ifugao Province in Luzon in the Philippines. It is also known as Antipolo Ifugao, Hanalulo, Keley-i, Keley-i Kalanguya and Keleyqiq Ifugao.
More information about Keley-i
http://en.wikipedia.org/wiki/Ifugao_language
http://www.ethnologue.com/language/ify
Tower of Babel in Philippine languages
Ata Manobo, Balangao, Bikol, Bontoc, Cebuano, Cuyono, Hiligaynon, Iloko, Ifugao, Itawis, Ivatan, Kagayanen, Kankanaey, Kapampangan, Keley-i, Kinaray-a, Malaweg, Maranao, Matigsalug Manobo, Pangasinan, Pangutaran Sama, Southern Kalinga, Tagabawà, Tagalog, Tagbanwa, Tuwali, Waray-Waray, Western Bukidnon
Other Tower of Babel translations
By language | By language family