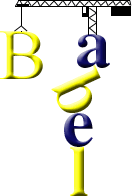 The Tower of Babel (Genesis 11: 1-9)
Western Bukidnon
Is Turi te Babilonia
1. Ne zutun he timpu, sebsevaha pa is kineǥiyan te langun he menge etew te tivuuk he kelibutan.
2. Ne zutun te kedhalinhalin te menge etew pehendiyà te zapit te edsilaan, neehè dan is meluag he menge suǥud diyà te Shinar, ne zutun dan med-ubpà.
3-4. Ne zutun, pesikaǥi zan te, "Ebaal kiw te sevaha he inged he zuen turi he ebpekeuma ziyà te langit, para mehimu kiw he bentuǥan wey para zaan kenè kiw mekedsusuwey kayi te tivuuk he kelibutan." Umbe mibaal sikandan te brik, ne mid-init dan heini para mebmezesen utew. Brik is migamit dan batu man pezem. Ispaltu is migamit dan wey mekedezeket haazà.
5. Ne zutun, mibulus is NENGAZEN su ed-ahaan din is mibeelan te etew he inged wey turi.
6. Migkaǥi sikandin te, "Heini he menge etew, nesevaha zan wey sevaha zà is kineǥiyan dan. Ne heini is mibeelan dan ne puunè pa heini. Kenà egkeuǥet ne ebeelan dan is minsan hengkey he egkesuatan dan.
7. Kuwa kew en, edhendiyè kiw, ne ibpedseselekawè tew is kineǥiyan dan su wey zuen mezakel he menge kineǥiyan su wey kenè dan mekedsesevutà."
8. Umbe mibpedsusuwey te sikandan te NENGAZEN kayi te tivuuk he kelibutan, ne neengkezan dan is kedtukud dan te inged.
9. Umbe, migngezanan haazà is inged he Babel, he ke và dà egkeǥiya, "Kegkengeliveǥi," su zutun impedseselekawà te NENGAZEN is kineǥiyan te tivuuk he menusiyà. Ne puun dutun midhimu te Megbevayà he mekedsusuwey sikandan pehendiyà te minsan hendei zini te kelibutan.
Source: Is Lalag Megbevayà. The Old Testament in Western Bukidnon Manobo. Wycliffe Bible Translators, 2013.
Contributed by Wolfgang Kuhl
Western Bukidnon or Western Bukidnon Manobo is a member of the Manobo branch of Malayo-Polynesian languages spoken mainly in Mindanao in the Philippines.
More information about Western Bukidnon
http://en.wikipedia.org/wiki/Western_Bukidnon_Manobo_language
http://www.ethnologue.com/language/mbb
Tower of Babel in Philippine languages
Ata Manobo, Balangao, Bikol, Bontoc, Cebuano, Cuyono, Hiligaynon, Iloko, Ifugao, Itawis, Ivatan, Kagayanen, Kankanaey, Kapampangan, Keley-i, Kinaray-a, Malaweg, Maranao, Matigsalug Manobo, Pangasinan, Pangutaran Sama, Southern Kalinga, Tagabawà, Tagalog, Tagbanwa, Tuwali, Waray-Waray, Western Bukidnon
Other Tower of Babel translations
By language | By language family