The Tower of Babel (Genesis 11: 1-9)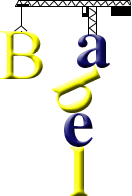 Hilu Humba (Kambera)
Toenanoe bana hăla ka pa'iwa, na dangoe na na ndaungoe na I Noak, tiloe ngahoe lima kamboeloe da. Toenanoe bana meti ka, hiwa ngahoe lima kamboeloe ndaungoe na.
Tăka hili ndaningoe pa na haätoe mahama dangoe na na nadungoe na I Noak. Toenanoe baba meti ka I Noak ndena ătăloe padangoe ă pa na tau, hama na ămang, ba ndena dangoe mboe na ndaungoe na; ningoe 400 ă, ningoe 300 ă, tăka ndedi nggi mandai na 200 mboea ndaungoe na.
Na manggawang noena, hangia ă nang na hiloe na mboeloe ndăba na na tau, hau tana hau tana. Na ngéa pangéangoe da bada kăhang, la tana Sinear, la karaha lokoe Prat. Toenanoe hida pakakandja da eti da: tawoeloe ja na paraingoe bokoel; la padoea tawoeloe oema djangga, na kapoekana kana toăma la awang; djéa ja noena kana namoe nda ana handădik, handalar; ka ămboe tanjalang la hau tana hau tana.
Tăka I Ala, na tanda toengoe noe ndena bihoe ja, bana peȧka ndja ămang: măta kai woroe kai bămbăroe, ămbi mboeta doe, kana kada ndăbang na tana.
Tăka poeroe na nja ka I Ala, hina pakoroe nja na biloe da, loepa ndena pinja na papeȧka na dăngoe angoe da patau lai noe.
Ba toenakanoe, ba ndeda papingoe pa hiloe, hida pa'ihang la hau tana hau tana, ndeda hăla ja pa na paraingoe da, bada woeloe ja.
Source: Ana Laloe Weling Na Hoeratoe Bokoel. Honderd Verhalen Uit Die Bijbelsche Geschiedenis In Het Soembaneesch. Uitgegeven Door Het Nederlandsch Bijbelgenootschap, Amsterdam 1915.
Na Lewatu la Mbambilu
La kawunga-na, da banja - banjaru la pa-nggubulu awangu hau hilu-aha, dàngu da kareuku pawàda da-pahama-ma.
Ba da-njadangu-ka la pahunga lodu, tàka-danyaka la hau maràda la tana Mbambilunia, ka pa-engangu-danyaka lai nu.
Dapanii dàngga anguda, "Màla ka ta-pandoi watu rara ka tatunu-ha lundu da-kalatungu," wàdaka. Nu-duyaka hi ningu watu rarada pawulu wàngu uma dàngu teru pa-panditaku wàngu.
Dapanii ba da-pahamangu, "Màla ka ta-pahadangu paraingu dàngu hau lewatu na kawuku-na na matoma la awangu, ka peku wuwa wàngunda dàngu ka àmbu ta-paihangu la pa-nggubulu awangu," wàdaka.
Ka puru-nanyaka i

MIRI

pa-tàngaru-ya na paraingu dàngu na lewatu pa-pahada-da da tau.
Hi napanii, "Nyuda yia hau banjaru-aha dàngu hau hilu-aha, dàngu yiana hina-apa pakiri-nanya na pawuku - pawuku-da. Nda namandai-apa ba damàka pa-pandoi-ya jàka nggàra biaya na pambuha-da.
Nahàmu-pa ka tapuru dàngu ka ta-kubaru-ya na hiluda, ka àmbu da-maràngga papingu hilu dàngga anguda," wànaka.
Tuna nu i

MIRI

ba na-paiha nggangganja la pa-nggubulu awangu. Ka pànjangu-danyaka pa-pahada-nya na paraingu.
Jia-duyaka hi datunya tamuna na paraingu nuna, Mbambilu, nadu ba lai nuduka i

MIRI

ba na-kubaru-ya na hiluna mbuu ndàbana na banjaru, dàngu welingu lai nuduka ba na-paiha - paiha-nya la pa-nggubulu awangu paraïna i

MIRI

.
Source: Na Huratu Matua. The Bible in Kambera. Lembaga Alkitab Indonesia. Indonesian Bible Society.
Contributed by Wolfgang Kuhl
Kambera is an East Sumbanese language spoken in the Lesser Sunda Islands in Indonesia. It is also known as East Sumbanese.
More information about Kambera
http://en.wikipedia.org/wiki/Kambera_language
http://www.ethnologue.com/language/xbr
Tower of Babel in Malayo-Polynesian Languages
Acehnese, Adzera, Ambrym, Anuki, Are, Balinese, Bambam, Bariai, Biatah Bidayuh, Bola, Bugis, Bwaidoka, Caribbean Javanese, Central Sinama, Fijian, Hiri Motu, Iban, Indonesian, Jarai, Kadazandusun, Kahua, Kakabai, Kambera, Kaninuwa, Kenyah, Kurti, Javanese, Luang, Lun Bawang, Madurese, Makassar, Malagasy, Malay, Mbula, Mentawai, Misima-Paneati, Motu, Nali, Ngaju, Nias, North Efate, Nyindrou, Paama, Palawano, Rade, Rotuman, Saveeng Tuam, Selaru, Suau, Sundanese, Timugon Murut, Tolai, Tontemboan, Toraja-Sa'dan, Tungag, Ubir, Wamesa, Yabem
Other Tower of Babel translations
By language | By language family
[top]
---

Why not share this page:

If you like this site and find it useful, you can support it by making a donation via PayPal or Patreon, or by contributing in other ways. Omniglot is how I make my living.
Note: all links on this site to Amazon.com
, Amazon.co.uk
and Amazon.fr
are affiliate links. This means I earn a commission if you click on any of them and buy something. So by clicking on these links you can help to support this site.
Get a 30-day Free Trial of Amazon Prime (UK)
If you're looking for home or car insurance in the UK, why not try Policy Expert?
[top]