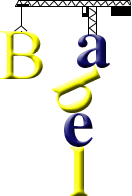 The Tower of Babel (Genesis 11: 1-9)
Fiteny Malagasy (Malagasy)
Ary mbola nampiasa fiteny iray ihany ny tany manontolo, sady nitovy ny teny nampiasainy.
Ary rehefa niantsinanana ny olona, dia nahita lemaka iray tao amin'ny tany Sinara, ka nanorim-ponenana tao.
Dia nifampiresaka izy ireo hoe: "Andao isika hanao biriky ka handoro izany ao anaty lafaoro." Koa biriky no nataony solom-bato, ary godorao no nataony solon-drihitra.
Ary hoy izy ireo: "Andao isika hanorina tanàna sy hanangana tilikambo izay mahatakatra ny lanitra ny tampony. Ary andao hataontsika izay hampahalaza ny anarantsika, sao hiparitaka manerana ny tany isika."
Ary nidina i Jehovah mba hijery ilay tanàna sy ilay tilikambo naorin'ny zanak'olombelona.
Dia hoy i Jehovah: "Vahoaka iray ihany izy ireo ary fiteny iray ihany no ampiasain'izy rehetra. Ary vao fiandohan'ny ataony izao. Koa tsy misy tsy ho vitany izay mety hokasainy hatao.
Andeha isika hidina eny, ka hataontsika misafotofoto ny fiteniny mba tsy hifankahazo fiteny izy ireo."
Koa naparitak'i Jehovah avy tao izy ireo ka niely nanerana ny tany. Dia natsahatr'izy ireo ny fanorenana ilay tanàna.
Izany no antony nanaovana ny anaran'ilay tanàna hoe Babela, satria tao no nataon'i Jehovah nisafotofoto ny fitenin'ny tany manontolo. Ary naparitak'i Jehovah avy tao izy ireo ka niely nanerana ny tany.
From: Ny Soratra Masina – Fandikan-tenin'ny Tontolo Vaovao
Plateau Malagasy
Ny tilikambon'i Babèla
Fiteny iray ihany ary voambolana mitovy no nampiasaina tamin'ny tany tontolo
Saingy rehefa nikisaka niantsinanana ny olona, dia nahita lemaka tao amin'ny tany Sinehara ary niorimponenana tao.
Dia nifampiresaka izy ka nanao koe: «Andao isika hanao biriky tanimanga ka handotra azy amin'ny afo.» Ny birky no nataony solon'ny vato ary ny molanga no nataony solon'ny rihitra.
Avy teo dia hoy koa ireo hoe: «Andeka isika hanorina tanàna misy tilikambo mahatakatra ny lanitra ny tendrony! Amin'izay dia halaza isika ka tsy hiparitaka amin'ny velaran'ny tany.»
Dia nidina avy any an-danitra ny TOMPO mba hijery ny tanàna sy ny tikilambo izay naorin'ny zanak'olombelona.
Ka hoy IZY hoe: «Indro ankehitriny fa firenena iray ihany izy rehetra ary fiteny tokana ihany no ampiasainy. Raha izany no fiandohanjavatra hataony, dia tsy hisy hahasakana azy tsy hahatanteraka iazy kasainy.
Koa andeha isika hidina hanakorotana ny fiteniny mba tsy hifankahazoany fiteny intsony.»
Koa tao ny TOMPO no nampiely ny olona ho amin'ny velaran'ny tany tontolo; ary dia nilaozan'ireo ny fananganana ilay tanàna.
Izany no niantsoana io tanàna io hoe Babèla, satria tao no nanakorontanan'ny TOMPO ny fitenin'ny olona, ary tao no nampielezany ny olona ho amin'ny velaran'ny tany tontolo.
Contributed by Wolfgang Kuhl
Information about Malagasy | Phrases | Numbers | Tower of Babel
Tower of Babel in Malayo-Polynesian languages
Acehnese, Adzera, Amarasi, Ambrym, Anuki, Are, Balinese, Bambam, Bariai, Batak Angkola, Batak Simalungun, Batak Toba, Biatah Bidayuh, Bola, Bugis, Bwaidoka, Caribbean Javanese, Dawan, Fijian, Helong, Hiri Motu, Iban, Indonesian, Jarai, Kadazandusun, Kahua, Kakabai, Kambera, Kaninuwa, Kenyah, Kurti, Javanese, Luang, Madurese, Makassar, Malagasy, Malay, Mbula, Misima-Paneati, Motu, Nali, Ngaju, Nias, North Efate, Nyindrou, Paama, Palawano, Rade, Rotuman, Saveeng Tuam, Suau, Sundanese, Timugon Murut, Tolai, Tontemboan, Toraja-Sa'dan, Tungag, Ubir, Wandamen, Yabem
Other Tower of Babel translations
By language | By language family
---
If you need to type in many different languages, the Q International Keyboard can help. It enables you to type almost any language that uses the Latin, Cyrillic or Greek alphabets, and is free.
If you like this site and find it useful, you can support it by making a donation via PayPal or Patreon, or by contributing in other ways. Omniglot is how I make my living.
Note: all links on this site to Amazon.com
, Amazon.co.uk
and Amazon.fr
are affiliate links. This means I earn a commission if you click on any of them and buy something. So by clicking on these links you can help to support this site.