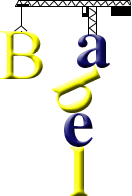 The Tower of Babel (Genesis 11: 1-9)
Bahasa Melayu (Malay)
Maka seluruh dunia mempunyai satu bahasa dan pertuturan yang sama.
Ketika manusia mengembara ke Timur, mereka terjumpa sebuah kawasan tanah lapang di Syinar dan menetap di sana.
Maka mereka pun bercakap antara satu sama lain, "Ayuh, mari kita buat bata dan membakarnya dengan sempurna." Maka mereka menggunakan bata sebalik daripada batu, dan tar untuk mortar.
Kemudian, mereka berkata, "Ayuh, mari kita bina bandar kita sendiri, dengan sebuah menara yang mencapai ke langit, supaya kita dapat mencipta nama untuk kita sendiri dan tidak terselerak ke merata dunia."
Akan tetapi, Tuhan turun ke bumi dan melihat bandar dan menara yang manusia sedang bina.
Maka kata-Nya, "Jika seseorang bercakap dalam satu bahasa dan ini yang mereka lakukan, maka tiada apa-apa pun yang mereka ingin lakukan ialah mustahil.
Ayuh, mari Kita pergi ke bawah dan mengelirukan bahasa mereka supaya mereka tidak akan memahami antara satu sama lain."
Maka Tuhan menyelerakkan manusia ke merata muka bumi, dan mereka berhenti membina bandar tersebut.
Sejak itulah bandar tersebut diberi nama Babel, kerana dari situlah Tuhan mengelirukan bahasa dunia. Dan juga dari situlah Dia menyelerakkan manusia ke merata muka bumi.
A recording of this text by Ng Kiat Quan
Translated by: Marwan Mohd. Zahari
This text in the Jawi script, provided by Ng Kiat Quan.
مک سلوروه دنيا ممڤوڽاءي ساتو بهاس دان ڤرتوتورن يڠ سام.
کتيک ماءنسي مڠمبارا ک تيمور، مريک ترجومڤا سبواه کاوسن تانه لاڤڠ د شينار دان منتڤ د سان.
مک مريک ڤون برچاکڤ انتارا ساتو سام لاءين، " ايوه , ماري کيت بوات بات دان ممباکرڽا." مک مريک مڠݢوناکن بات سباليق درڤد باتو , دان تر اونتوق مورتر.
کمودين، مريک برکات، "ايوه، ماري کيت بينا باندر کيت سنديري، دڠن سبواه منارا يڠ منچاڤاي ک لاڠيت، سوڤايا کيت داڤت منچيڤتا نام اونتوق کيت سنديري دان تيدق ترسليرق ک مرات دنيا."
اکن تتاڤي، توهن تورون ک بومي دان مليهت باندر دان منارا يڠ ماءنسي سدڠ بينا.
6مک کاتڽا، "جک سسأورڠ برچاکڤ دالم ساتو بهاس دان اين يڠ مريک لاکوکن، مک تياد اڤ٢ ڤون يڠ مريک ايڠين لاکوکن اياله مستحيل.
ايوه، ماري کيت ڤرݢي ک باوه دان مڠليروکن بهاس مريک سوڤايا مريک تيدق اکن ممهمي انتارا ساتو سام لاءين."
مک توهن مڽليرقکن ماءنسي ک مرات موک بومي، دان مريک برهنتي ممبينا باندر ترسبوت.
سجق ايتوله باندر ترسبوت دبري نام يبيل، کران دري سيتوله توهن مڠليروکن بهاس دنيا. دان جوݢ دري سيتوله دي مڽليرقکن ماءنسي ک مرات موک بومي.
Information about Malay | Phrases | Numbers | Tower of Babel | Learning materials
Tower of Babel in Malayo-Polynesian languages
Acehnese, Adzera, Ambrym, Anuki, Are, Balinese, Bambam, Bariai, Biatah Bidayuh, Bola, Bugis, Bwaidoka, Caribbean Javanese, Central Sinama, Fijian, Hiri Motu, Iban, Indonesian, Jarai, Kadazandusun, Kahua, Kakabai, Kambera, Kaninuwa, Kenyah, Kurti, Javanese, Luang, Lun Bawang, Madurese, Makassar, Malagasy, Malay, Mbula, Mentawai, Misima-Paneati, Motu, Nali, Ngaju, Nias, North Efate, Nyindrou, Paama, Palawano, Rade, Rotuman, Saveeng Tuam, Selaru, Suau, Sundanese, Timugon Murut, Tolai, Tontemboan, Toraja-Sa'dan, Tungag, Ubir, Wamesa, Yabem
Other Tower of Babel translations
By language | By language family
[top]
---

Why not share this page:

If you like this site and find it useful, you can support it by making a donation via PayPal or Patreon, or by contributing in other ways. Omniglot is how I make my living.
Note: all links on this site to Amazon.com
, Amazon.co.uk
and Amazon.fr
are affiliate links. This means I earn a commission if you click on any of them and buy something. So by clicking on these links you can help to support this site.
Get a 30-day Free Trial of Amazon Prime (UK)
If you're looking for home or car insurance in the UK, why not try Policy Expert?
[top]