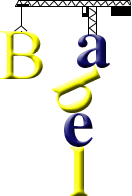 The Tower of Babel (Genesis 11: 1-9)
Kadazandusun
Boros Dusun (Bunduliwan)
Di nopo di gulu po, om iso' no o bansa do boros do tulun do hiti'd pototongkop do pomogunan om oiyo nopo o boros diolo'.
Om tontok di mininghombo iyolo' do ponong id koulayon, om kobontol no iyolo' do tana' dot arantai do hilo'd Babilonia, om pomogun-mogun noddi iyolo' do hiri.
Om pogiboros-boros noddi iyolo' do poingkaa, " Kainou momonsoi do bata'. Om uhubon toko' om okodou i'," ka diyolo. Om haro noddi o bata' diyolo' do maan do powonsoyon, om haro o tir do popogisosokot diri.
Om boros kaddi diyolo', "Baino nopo, om popoingkakat toko' dot iso' o bandar om momonsoi toko' dot iso' o walai dot akawas, i kosunggu do hilo'd tawan o kasawato, om koinggayo i' o ngaran toko', om a' toko' indo kopogitongkiad-tongkiad do hiti'd pomogunan," ka diyolo'.
Om lintuhun noddi o Kinorohingan do minongoi ontong di bandar om i walai dit akawas di winonsoi di tongoulun diri.
Om boros kaddi do Kinorohingan, "Iti nopo tulun diti om iso i' o bansa' om iso-iso' o bansa' do boros. Iti nopodti om koimpuunon nogi' di pokiwawansayan diyolo'. Om a' no alaid om owonsoi ngai' no diyolo' o nunu nopo i korohian diyolo'.
Osonong nogi' do lumintuhun toko' om pogisuwai-suwayon toko' i' o boros diyolo', om a' i' iyolo kopogisuhut-suhut do mogiboros-boros," kad dau.
Om pogitongkiad-kiado noddi do Kinorohingan iyolo' do pinotongkop diti pomogunan. Om tingkadai noddi diyolo' do momonsoi i bandar diri.
Om iri nopo i bandar diri nga' pinungaranan do "Babil". Tu' hilo' no o Kinorohingan o pinopogisuwai-suwai do boros do tulun, om hilo' nogi' do pinogitongkiad-kiad dau o tulun do pinotongkop diti pomogunan.
Kadazan (Tangaa')
Ii baabaino dino, om kivaa nopo do potootongkop do vinoun diti nga' iso' boos om sandad di miimiaga dino.
Om songian nopo do mimpanau do tuhun doid Kohisaon, ii nokosoomo' zioho' do iso' kinoizonon do tana' id Shinar om mongimungod do ponong doino.
Om minoboos izioho' nogi' do iso' suvai do poingkaa', "Kanou no papavaa' do bata om tutudai tokou dioho i poinggonop." ka, om momoguno zioho' do bata vagu do mantad vatu, om tar do montok mortar.
Ka dioho', "Kanou no vinaa' do kakadazan om tungkavas tokou sondii, om akavas doid tavan, om kaanu zikoi do vinangun o ngaan dotokou sondii, nga' au' nouizas doid sompomogunan." ka.
Om katapi, osiibo' di Kinoingan doid vinoun om okito' do kakadazan om tungkavas di mamavaa' do tuhun kokomoi.
Ka Disido', "Nung ka diisai nopo doid iso boos om iso tuhun doid saviavi do tuhun, aiso nunu-nunu di kinaantakan di au' moti.
Kanou siniibo' om mongompuvong do boos dioho', mooi do au' zioho' kalati do iso' mogisuusuvai boos," ka.
Monguizas di Kinoingan nodi doid tuhun id vinoun, om notingkod zioho' nodi papavaa' do kakadazan dii.
Ontok nopo iti nga' pinungaan i Babel, ii saasabap nga' duutia mongompuvong di Kinoingan doid boos do sompomogunan. Om doiho nogi mantad monguizas Isido' doid saviavi do tuhun id vinoun.
Translations by Ali Aulia Ghozali (ᮃᮜᮤ ᮃᮈᮜᮤᮃ ᮌᮧᮐᮜᮤ)
Information about Kadazandusun | Central Dusun phrases | Coastal Kadazan phrases | Numbers | Family words | Terms of endearment | Time | Weather words | Tower of Babel
Tower of Babel in Malayo-Polynesian languages
Acehnese, Adzera, Ambrym, Anuki, Are, Balinese, Bambam, Bariai, Biatah Bidayuh, Bola, Bugis, Bwaidoka, Caribbean Javanese, Central Sinama, Fijian, Hiri Motu, Iban, Indonesian, Jarai, Kadazandusun, Kahua, Kakabai, Kambera, Kaninuwa, Kenyah, Kurti, Javanese, Luang, Lun Bawang, Madurese, Makassar, Malagasy, Malay, Mbula, Mentawai, Misima-Paneati, Motu, Nali, Ngaju, Nias, North Efate, Nyindrou, Paama, Palawano, Rade, Rotuman, Saveeng Tuam, Selaru, Suau, Sundanese, Timugon Murut, Tolai, Tontemboan, Toraja-Sa'dan, Tungag, Ubir, Wamesa, Yabem
Other Tower of Babel translations
By language | By language family
[top]
---

Why not share this page:

If you like this site and find it useful, you can support it by making a donation via PayPal or Patreon, or by contributing in other ways. Omniglot is how I make my living.
Note: all links on this site to Amazon.com
, Amazon.co.uk
and Amazon.fr
are affiliate links. This means I earn a commission if you click on any of them and buy something. So by clicking on these links you can help to support this site.
Get a 30-day Free Trial of Amazon Prime (UK)
If you're looking for home or car insurance in the UK, why not try Policy Expert?
[top]