It's raining cats and dogs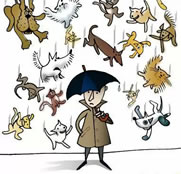 Idiomatic expressions for heavy rain in many different languages.
The origins of the English expression, It's raining cats and dogs, are uncertain, though the most likely source is a satirical poem by Jonathan Swift, A Description of a City Shower, first published in Tatler magazine in 1710. The poem includes the lines "Drown'd Puppies, stinking Sprats, all drench'd in Mud / Dead Cats and Turnip-Tops come tumbling down the Flood." There are more details here.

Books of idioms, proverbs and sayings in many languages
People who have contributed to this section
If you would like to make any corrections or additions to this page, or if you can provide recordings, please contact me. You can make recordings on you computer, tablet, phone or other device and email them to me. Audacity is a good, free sound recorder and editor. You can also make them online at online-voice-recorder.com, or similar sites.
Links
Rain-related idioms, sayings and proverbs
http://www.worldwidewords.org/qa/qa-rai1.htm
http://www.oh-i-see.com/blog/2014/01/27/culture-smart-is-the-rain-in-spain-the-same/
http://americanfolklore.net/folklore/2010/07/rain_proverbs_sayings.html
http://www.cmos.ca/weatherlore.html
---
More idioms
It's all Greek to me | It's raining cats and dogs | As easy as falling off a log | A sandwich short of a picnic | It's small world | When pigs fly | Out of sight, out of mind
Idioms in individual languages
Czech | French | Russian | Slovak | Spanish
Multilingual pages
Phrases | Numbers | Numerals | Colours | Time expressions | Kinship terms | Language names | Country names | Idioms | Proverbs | Tongue twisters | Signs | UDHR | Tower of Babel | Songs | Omniglot | Seven dwarfs | Zodiac signs | Computer parts