Turkish (Türkçe)
Turkish is a Turkic language with about 70 million speakers in Turkey and in 35 other countries, including Australia, Austria, Azerbaijan, Belgium, Bulgaria, Canada, Cyprus, Denmark, El Salvador, Finland, France, Georgia, Germany, Greece, Honduras, Iran, Iraq and Israel.
Until 1928, Turkish was written with a version of the Perso-Arabic script known as the Ottoman Turkish script. In 1928, as part of his efforts to modernise Turkey, Mustafa Kemal Atatürk issued a decree replacing the Arabic script with a version of the Latin alphabet, which has been used ever since. Nowadays, only scholars and those who learnt to read before 1928 can read Turkish written in the Arabic script.
Ottoman Turkish script (لسان عثمانى)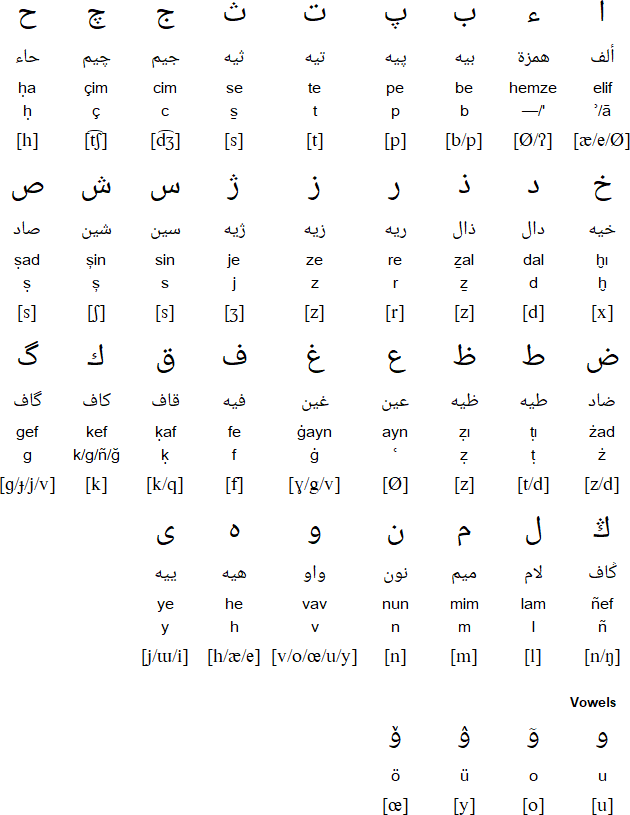 Numerals

Sample text

Translation
All human beings are born free and equal in dignity and rights. They are endowed with reason and conscience and should act towards one another in a spirit of brotherhood.
(Article 1 of the Universal Declaration of Human Rights)
Latin alphabet for Turkish (türk alfabesi)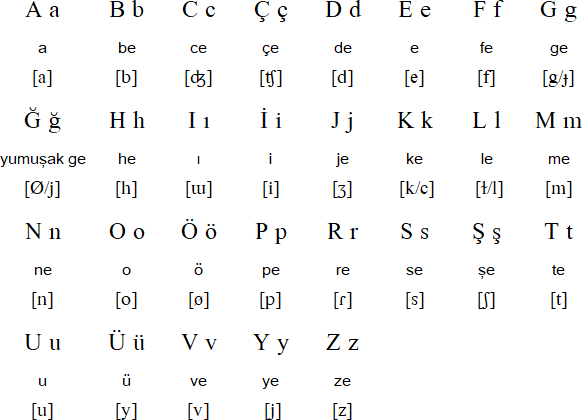 Sample text in Turkish
Bütün insanlar hür, haysiyet ve haklar bakımından eşit doğarlar. Akıl ve vicdana sahiptirler ve birbirlerine karşı kardeşlik zihniyeti ile hareket etmelidirler.
Translation
All human beings are born free and equal in dignity and rights. They are endowed with reason and conscience and should act towards one another in a spirit of brotherhood.
(Article 1 of the Universal Declaration of Human Rights)
Information about Turkish | Turkish phrases | Kinship terms in Turkish | Numbers in Turkish | Tower of Babel in Turkish | Turkish learning materials
Links
Information about Turkish
http://en.wikipedia.org/wiki/Turkish_language
http://www.turkishlanguage.co.uk
http://www.bbc.co.uk/languages/other/turkish/guide/
http://www.allaboutturkey.com/dil.htm
Online Turkish lessons
http://www.turkishlanguage.co.uk
http://cali.arizona.edu/maxnet/tur/
http://www.onlineturkish.com
http://cali.arizona.edu/maxnet/tur/
http://www.turkishclass.com
http://www.exploreturkish.com
http://www.teachyourselfturkish.com
http://turkish.pgeorgalas.gr/indexEn.htm
http://www.turkishbasics.com
http://turkish2learn.blogspot.com
http://ingilizce.g3n.in
http://turkishtools.tourkika.com
http://www.kuranharfleri.com/tr/osmanlica/osmanlica-dersleri-tamami
http://polymath.org/turkish.php

Turkish phrases
http://www.onlineturkish.com
http://turkeytravelplanner.com/details/LanguageGuide/100words_lessons/
http://www.linguanaut.com/english_turkish
http://tinyurl.com/2qgmv4
http://www.kwintessential.co.uk/resources/language/turkish-phrases.html
The Turkish Listening Library
http://www.turkishlisteninglibrary.com
Online Turkish dictionaries
http://www.ingilizceturkce.com
http://www.turkce-ingilizce.com
http://www.kadifeli.com/cgi-bin/compdict.pl
http://www.langtolang.com
http://www.termbank.net/psychology/
http://www.turktrans.net/idioms/
http://www.zargan.com
http://www.dictionarist.com/turkish/
http://www.japonca.da.ru
http://www.sozlukte.com
http://www.ingilizcesozluk.da.ru/
http://ingilizce.biz.tm/sozluk
http://tdk.gov.tr
http://www.ingilizceturkcesozluk.net
http://www.ingilizceturkce.gen.tr/ingilizcesozluk.html
http://ctle.pau.edu.tr/osmtr/
http://ctle.pau.edu.tr/rutr/
http://dde.pau.edu.tr/arapca/

Turkish ICQ chatroom
http://www.icqturk.com/chat/
Online translation between Turkish and other languages
http://www.hazar.com
http://ingilizceceviri.gen.tr
http://turkceingilizce.ingilizceturkce.gen.tr/
Online input for Turkish and other Turkic languages
http://www.isa-sari.com/ctlk/?id=en
Online input for Ottoman Turkish
http://www.isa-sari.com/osmanlica/?id=en
Turkish Electronic talking dictionaries
http://www.ectaco.com
Online Turkish language radio
http://www.trt.net.tr/
http://www.olayfm.com.tr
http://www.bbc.co.uk/turkish/
http://www.radyohiras.com
Online news in Turkish
http://www.turkcegazeteler.com
http://www.bbc.co.uk/turkish/
http://www.gazeteler.de
Online e-books and audio books in Turkish
http://www.1001kitap.com/
http://ekitap.kulturturizm.gov.tr/ana-sayfa/1-294/20120531.html
http://www.herkonu.de/showthread.php?t=8281
http://www.karakutu.com/seslikitap/
http://catmacam.tr.gg/sesli-kitap-dinle.htm
http://www.warezturkey.net/e-book/8260-100-temel-eser-sesli-kitap-turkce-indir.html
http://www.pandora.com.tr/yayinevi/sesli-kitaplar/2315
Türk Dil Kurumu (TDK) (Turkish Language Association) - the official language regulator of the Turkish language: http://tdk.gov.tr
TurkishClass101.com - Learn Turkish with Free Audio and Video Lessons | Turkish learning software
Turkic languages
Other languages written with the: Arabic, and Latin alphabets