Tocharian alphabet
Origin
The existence of the Tocharian language and alphabet only came to light in the early 20th century, when fragments of manuscripts in a then unknown alphabet were discovered in Xinjiang in north-western China.
Once the manuscripts were deciphered, they proved, much to the amazement of linguists, to be in an hitherto unknown branch of the Indo-European group of languages, which they called 'Tocharian'. The alphabet they were written in is derived from the Brahmi alphabet.
Notable features
Tocharian is a syllabic alphabet in which each consonant has an inherent vowel /a/. Other vowels are indicated with independent vowel letters or vowel diacritics.
Used to write:
Tocharian, an extinct Indo-European language which was spoken between the 6th and 8th centuries AD, and probably earlier, in what is now north-western China.
Tocharian alphabet
Consonants
Vowels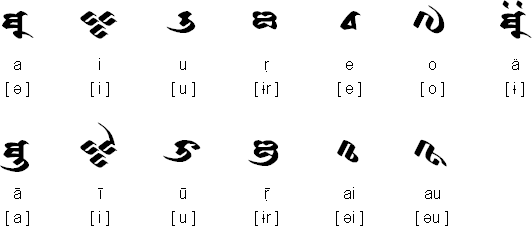 Vowel indication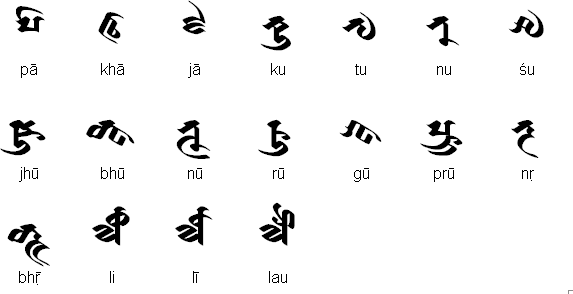 Fragment of a Tocharian manuscript

Links
Tocharian alphabet
http://titus.fkidg1.uni-frankfurt.de/didact/idg/toch/tochbr.htm
Everything you always wanted to know about Tocharian
http://www.oxuscom.com/eyawtkat.htm
Images of Tocharian Manuscripts
http://titus.uni-frankfurt.de/texte/tocharic
Ahom, Badaga, Balinese, Batak, Baybayin (Tagalog), Bengali, Brahmi, Buhid, Burmese, Chakma, Cham, Dehong Dai, Devanagari, Dhives Akuru, Ethiopic, Evēla Akuru, Fraser, Gondi, Grantha, Gujarati, Gupta, Gurmukhi, Hanuno'o, Javanese, Jenticha, Kaithi, Kannada, Kharosthi, Khmer, Khojki, Kulitan, Lanna, Lao, Lepcha, Limbu, Lontara/Makasar, Malayalam, Manpuri, Modi, Mongolian Horizontal Square Script, New Tai Lue, Oriya, Pahawh Hmong, Pallava, Phags-pa, Ranjana, Redjang, Shan, Sharda, Siddham, Sindhi, Sinhala, Sorang Sompeng, Sourashtra, Soyombo, Sundanese, Syloti Nagri, Tagbanwa, Takri, Tamil, Telugu, Thai, Tibetan, Tikamuli, Tocharian, Tolong Siki, Tulu, Varang Kshiti