من أنا ؟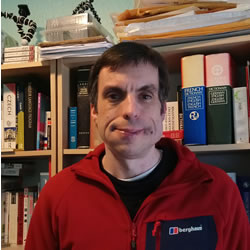 اسمي سايمون إيغر وأصلي من لانكشير شمال غرب إنكلترا لكني أعيش حاليا في بانغور بويلز وأكسب عيشي من هذا الموقع ، وقد عملت بوظائف متعددة في عدة مناطق بالمملكة المتحدة وفرنسا وتايوان وجزر القنال .
لغتي الأصلية هي الإنكليزية ومهتم جدا باللكنات واللهجات لمختلف اللغات اللي أستطيع تذكرها ، حيث درست الفرنسية والألمانية في المدرسة الثانوية كما أحمل شهادة البكالوريوس في اللغتين الصينية واليابانية بالإضافة إلى شهادة الماجستير في الألسنيات ، وقد تعلمت عددا من اللغات الأخرى بشكل ذاتي مع نسب متفاوتة من النجاح .
أجيد اللغات الصينية الماندارينية والفرنسية والويلزية والإيرلندية بدرجة أعلى أو أقل من الطلاقة ويمكنني التدبر في اللغات الألمانية والإسبانية واليابانية والاسكتلندية الغالية والمانكسية ، كما أستطيع قراءة وفهم الإيطالية والبرتغالية والإسبرنتو بعض الشيء مع معرفة سطحية باللغات التشيكية والتايوانية والكنتونية ولغة الإشارات البريطانية .
المزيد من التفاصيل حول مغامراتي في تعلم اللغات
أهوى الغناء واللعب والاستماع للموسيقى إضافة إلى القراءة والسفر والسباحة والتزلج على العجلات وركوب الدراجات الهوائية والدراجات الأحادية وألعاب الخفة .
Donations can be made in UK pounds
Translated into Arabic by Zein Al A'bideen Shabeeb
Information about Arabic | Phrases | Numbers | Video lessons | Tower of Babel | Articles | Links | Learning materials | Books about the Arabic script | Arabic electronic dictionaries and translators | Find Arabic tutors
About me in other languages
About this site | Omniglot - a potted history | About me | My language learning adventures | My singing adventures | My songs | My tunes | My musical adventures | My juggling adventures
---
If you need to type in many different languages, the Q International Keyboard can help. It enables you to type almost any language that uses the Latin, Cyrillic or Greek alphabets, and is free.
If you like this site and find it useful, you can support it by making a donation, or by contributing in other ways. Omniglot is how I make my living.