Yazar Hakkında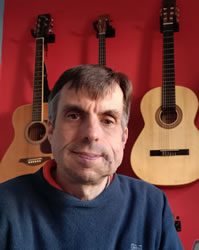 Benim adım Simon Ager, aslen İngiltere'nin kuzeybatısındaki Lancashire'danım, şu anda Galler'deki Bangor'da yaşıyorum ve hayatımı Omniglot'tan kazanıyorum.
Değişik işlerde İngiltere'nin çeşitli bölgelerinde Channel Adaları'nda, Fransa'da ve Tayvan'da çalıştım.
Anadilim İngilizce'dir ve İngilizce'nin aksanlarına ve lehçelerine ve hatırlayabildiğim kadar diğer dillere de ilgi duyuyorum. Fransızca ve Almanca çalıştım aynı zamanda Çince ve Japonca üzerine lisans derecem ve Dilbilim üzerine de masterım var. Çeşitli başarı derecelerinde bir çok dile kendi kendime çalıştım. Mandarin'im, Fransızcam, Galcem, İrlandacam aşağı yukarı akıcıdır. Almanca, İspanyolca, Japonca, İskoçça ve Manksçayı anlayabilir ve İtalyanca, Portekizce ve Esperantoyu da yazabilir ve biraz anlayabilirim. Kantonca, Tayvanca, Çekçe ve İngiliz İşaret Dili hakkında ise yüzeysel bilgim vardır.
Müzik dinlemekten, çalmaktan ve söylemekten, okumaktan, gezmekten, yüzmekten, kayak yapmaktan, bisiklete binmekten, tektekere binmekten ve hokkabazlıktan hoşlanırım.
Bu arada, belki merak ediyorsunuzdur, soyadım /'eɪgə/ şeklinde söyleniyor. Sakson ismi olan Ēadgār'dan geliyor. "Ead", "iyi talih"; "gār" ise "mızrak" anlamına geliyor.
Paypal ile bir bağışta bulunarak Omniglot'u destekleyebilirsiniz.
Ya da siteye başka şekillerde katkıda bulunabilirsiniz.
Translated in Turkish by Uğur Çakır
Information about Turkish | Phrases | Numbers | Family words | Time | Tongue twisters | Tower of Babel | Turkish learning materials

- TurkishClass101.com - Learn Turkish with Free Audio and Video Lessons
- Learn Turkish online with Mondly
- Learn Turkish with Glossika

Turkish language resources on Amazon
About me in other languages
অসমীয়া, Bahasa Indonesia, Bahasa Melayu, বাংলা, català, čeština, Chabacano, Cymraeg, dansk, Deutsch, eesti, English, Englisc, العربية, ελληνικά, español, Esperanto, فارسى, français, Gaeilge, Gaelg, Gàidhlig, Gutiska (𐌲𐌿𐍄𐌹𐍃𐌺𐌰), 한국어, Hiligaynon, Hindi, Íslenska, italiano, עברית, Kadazan, Kala Lagaw Ya, Kernewek, Lingua Latina, magyar, मराठी, монгол, Neddersassisch, Nederlands, 日本語, norsk, occitan, ภาษาไทย, polski, português, român, Русский, Shqip, slovenčina, suomi, Svenska, Tagalog, Tamasheq, தமிழ், Türkçe, ײִדיש, 中文
About this site | Omniglot - a potted history | About me | My language learning adventures | My musical adventures | My singing adventures | Song writing | Tunesmithing | My juggling adventures
[top]
---

Why not share this page:
If you like this site and find it useful, you can support it by making a donation via PayPal or Patreon, or by contributing in other ways. Omniglot is how I make my living.
Note: all links on this site to Amazon.com
, Amazon.co.uk
and Amazon.fr
are affiliate links. This means I earn a commission if you click on any of them and buy something. So by clicking on these links you can help to support this site.
Get a 30-day Free Trial of Amazon Prime (UK)
If you're looking for home or car insurance in the UK, why not try Policy Expert?
[top]