מי אני?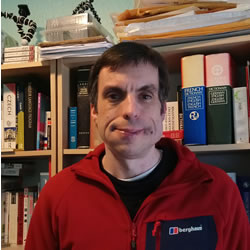 שמי שמעון אגר, אני גר בבנגור שבווילס, ומרוויח את פרנסתי מאתר אינטרנט זה. אני במקור מלנקשייר שבצפון-מערב אנגליה, ואני חייתי, עבדתי, ולמדתי במספר מדינות אחרות, הכוללות צרפת, טאיוואן, יפן, ואירלנד.
שפות העולם ריתקו אותי מתחילת זכרונותיי, ולמדתי לא מעט מהן, במגוון רמות של הצלחה. אני מדבר באופן שותף סינית מנדרינית, צרפתית, ווולשית, אני יכול להסתדר בגרמנית, ספרדית, יפנית, גאילית סקוטית ומנקס, וקורא ומבין די הרבה איטלקית, פורטוגזית, ואספרנטו, ויש לי הבנה בסיסית בצ'כית, טאיוואנית, סינית קנטונית, ושפת הסימנים האנגלית.
פרטים נוספים על הרפתקאותי בלימוד שפות
בנוסף לשפות, אני נהנה משירה, נגינה, והאזנה למוזיקה, קריאה, טיולים, שחייה, סקייטינג, ורכיבה באופניים, ואני מתעניין במגוון תחומים הכוללים הכל מארכיולוגיה לזוולוגיה.
דרך אגב, במקרה והתעניינתם, שם משפחתי נאמר "אדג'" הבא מהשם הסקסוני"אדגאר" שפירושו "עשיר, מבורך, ושמח".
Translated into Hebrew by Jehuda Ronen, with corrections and additions by Ella Karev (אלה קרב)
Information about Hebrew | Phrases | Numbers | Time | Video lessons | Tower of Babel | Articles | Biblical Hebrew video lessons | Modern Hebrew video lessons | Hebrew links | Hebrew learning materials
About me in other languages
অসমীয়া, Bahasa Indonesia, Bahasa Melayu, বাংলা, català, čeština, Chabacano, Cymraeg, dansk, Deutsch, eesti, English, Englisc, العربية, ελληνικά, español, Esperanto, فارسى, français, Gaeilge, Gaelg, Gàidhlig, Gutiska (𐌲𐌿𐍄𐌹𐍃𐌺𐌰), 한국어, Hiligaynon, Hindi, Íslenska, italiano, עברית, Kadazan, Kala Lagaw Ya, Kernewek, Lingua Latina, magyar, मराठी, монгол, Neddersassisch, Nederlands, 日本語, norsk, occitan, ภาษาไทย, polski, português, român, Русский, Shqip, slovenčina, suomi, Svenska, Tagalog, Tamasheq, தமிழ், Türkçe, ײִדיש, 中文
About this site | Omniglot - a potted history | About me | My language learning adventures | My musical adventures | My singing adventures | Song writing | Tunesmithing | My juggling adventures
[top]
---

Why not share this page:
If you like this site and find it useful, you can support it by making a donation via PayPal or Patreon, or by contributing in other ways. Omniglot is how I make my living.
If you need to type in many different languages, the Q International Keyboard can help. It enables you to type almost any language that uses the Latin, Cyrillic or Greek alphabets, and is free.
Note: all links on this site to Amazon.com
, Amazon.co.uk
and Amazon.fr
are affiliate links. This means I earn a commission if you click on any of them and buy something. So by clicking on these links you can help to support this site.
[top]