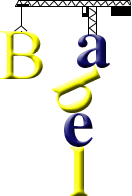 The Tower of Babel (Genesis 11: 1-9)
Rikou (Tii)
Manara Babel
1. Lele uluk, basa hatahorir rai dae-bafok kokolak pake kada dedeꞌak esak ka.
2. Neu sira ketuk mulai lali reni boboan dulu reu, ara losa dae matetuk esa nai Sinear, boe ma ara leo reu naa.*
3-4 Basa sara rala harak rae, "Wee! Toranoo nggara ein! Mai fo ita tambaririik kota moꞌok esa. Ita muste tao batu mbilas, boe ma ita hotun losa natea. Ma ita totodo batu mbilas raa pake ter. Basa boe ma ita tambaririik manara mandema esa, suꞌun losa lalai, mita fo ita hambu nade kokoak. Mita fo ita dadi teu hatahori nusa moꞌok esa, hae tabingga-baꞌek."
5. Boe ma MANETUALAIN konda mai titino soba kota naa no manaran, fo ara rambaririik kana.
6. Basa boe ma Ana kokolak nae, "Basa hatahori dae-bafok kara iar hatahori nusak esa, ma pake dedeꞌak esa. Hata fo ara taok hatematak ia, ia bei fo kada ue makasososak. Mbila-beinesak, mete ma basa sara rakaesa dadi reu esa, sama leo hatematak ia, neu ko ara bisa tao hata a mesan.
7. Malole lenak Ita konda fo tao dedeꞌan nara esak matan, mita fo sira esa ta nala esa dedeꞌan bali."
8. Basa boe ma MANETUALAIN konda fo tao babalik sira dedeꞌan. No dalak naa, Ana tao hatahori dae-bafok kara raa sasarak reni basa mamanak kara rai dae-bafok ia reu. De ara ta rambaririik rakandoo kota naa ena bali.
9. Huu naa de ara foi kota naa, nade Babel, (fo sangga sama leo dedeꞌa deꞌek esa sosoa-ndandaan 'panggananaa'), nahuu MANETUALAIN tao babalik sira dedeꞌan ma tao sasarak kasa reni sudi bee reu, ndule dae-bafok ia.
* 11:2 'Muni boboan dulu muu' nai dedeꞌa Ibrani sosoa-ndandaan oo bisa boe nae, 'numa boboan dulu mai'. Sinear naden laen, ndia 'Babel'.
Source: Tutui Makasososak. Rote Tii Alkitab. Genesis and the New Testament in the Rote Tii language of Indonesia. Kejadian dan Perjanjian Baru dalam bahasa Rote Tii. Unit Bahasa dan Budaya, 2004-2011.
Contributed by Wolfgang Kuhl
Information about Tii | Tower of Babel
Tower of Babel in Malayo-Polynesian languages
Acehnese, Adzera, Ambrym, Anuki, Are, Balinese, Bambam, Bariai, Biatah Bidayuh, Bola, Bugis, Bwaidoka, Caribbean Javanese, Central Sinama, Fijian, Hiri Motu, Iban, Indonesian, Jarai, Kadazandusun, Kahua, Kakabai, Kambera, Kaninuwa, Kenyah, Kurti, Javanese, Luang, Lun Bawang, Madurese, Makassar, Malagasy, Malay, Mbula, Mentawai, Misima-Paneati, Motu, Nali, Ngaju, Nias, North Efate, Nyindrou, Paama, Palawano, Rade, Rotuman, Saveeng Tuam, Selaru, Suau, Sundanese, Timugon Murut, Tolai, Tontemboan, Toraja-Sa'dan, Tungag, Ubir, Wamesa, Yabem
Other Tower of Babel translations
By language | By language family
[top]
---

Why not share this page:

If you like this site and find it useful, you can support it by making a donation via PayPal or Patreon, or by contributing in other ways. Omniglot is how I make my living.
Note: all links on this site to Amazon.com
, Amazon.co.uk
and Amazon.fr
are affiliate links. This means I earn a commission if you click on any of them and buy something. So by clicking on these links you can help to support this site.
If you're looking for home or car insurance in the UK, why not try Policy Expert?
[top]