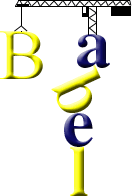 The Tower of Babel (Genesis 11: 1-9)
Dawida (Kidawida)
Ngelo iyo, wurumwengu ghose ghorekoghe na kiteto chimweri na lwaka lumweri.
Hata iji wandu werekoghe wikidamba kufuma chia ra mashariki, wikavika kirindi cha isanga jimu jiwangwagha Shinari, nawo wikakaia aho.
Wikazerana weni na weni, "Nndokonyi dikabe matofali, dighioche nicha." Nawo werekoghe na matofali wulalo ghwa magho, na lami wulalo ghwa chokaa.
Nao wikaghamba, "Idana ndedikuaghie muzi na mnara, na wuighu ghwaro ghujoke hata ghuvike mlungunyi, nesi dikubonyere diweni irina, eri disakesaghiswa ii chia na ii chia aighu ndoenyi."
Niko BWANA ukasea upate kuwona ugho muzi na ugho mnara wadamu wereghuaghieghe.
Nao BWANA ukaghamba, "Olenyi wandu awa ni wandu wamweri, widedagha kiteto chimweri na lwaka lumweri; na uku ni kuzoya tu kwa agha wichaabonya, hata ndewichaalemwa ni kilambo chingi wichaakunda anduangi.
Idana ndedisee diwitasanyire kiteto chawo, eri wisesikirane madedo weni na weni."
Niko BWANA ukawisaghisa ndoenyi kose kufuma aja, nawo wikasigha kuagha ugho muzi.
Niko huwo muzi ugho ghukawangwa Babeli, angu aho niko BWANA oretasanyireghe kiteto cha wadamu wose, na kufuma aja, ukawifunya wisasarike ndoenyi kose.
Source: The Holy Bible in Taita (Kidawida) published as Biblia Ilagho Jiboie Kwa Wandu Wose. A new Common Language Translation. The Bible Society of Kenya, Nairobi, 1998.
Contributed by Wolfgang Kuhl
Dawida or Taita is a Bantu language spoken in the Taita District of Kenya by about 312,000 people. It is also known as Dabida, Davida, Kidabida, Kitaita and Teita.
More information
http://www.ethnologue.com/language/dav
http://en.wikipedia.org/wiki/Taita_language
Tower of Babel in Bantu languages
Bemba, Beti, Bulu, Chichewa, Dawida, Kamba, Kikuyu, Kinyarwanda, Kirundi, Koti, Kwanyama, Lamba, Lingala, Lozi, Luba-Katanga, Luganda, Luragooli, Mbunda, Mpongwe, Ndebele, Ndonga, Nkore, Northern Sotho, Nyakyusa, Sango, Sena, Shona, Soga, Southern Sotho, Sukuma, Swahili, Swati, Tetela, Tonga, Tsonga, Tswana, Tumbuka, Venda, Xhosa, Yao, Zulu
Other Tower of Babel translations