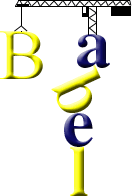 The Tower of Babel (Genesis 11: 1-9)
Ɔtɛtɛla (Tetela)
Luudu l'Etangelu
Antu tshe wa la kete waki la oteketa wame ndu aui wuhu otoi.
Lam'akawatatshokaka utsha lene atuhutoka unya, vo wakatushula usui lu kete ya Shinare, ku vo wakatudjase loko.
Vo wakatanela vati: Nyeso, tutshi atafadi, tâtshumbi ololo. Atafadi ako wakakiti dihuli dia ave l'ulimu awo. Vo waki la nombe lu dihuli dia potopoto.
Ku vo wakati ntu vai: Tuyahikeli usumba, ndu luudu l'etangelu layukuma ote alo pulu ndu l'ulungu. Tuyali la lukumu, tutukudiangana la kete tshe.
Ku Latuyalaka akahulo dia ndjenda usumba ako la luudu l'etangelu lakahiki antu.
Ndi akati ati: Mete, antu ane weko wudja otoi, ndu vo tshe nteketaka oteketa wame. Lam'atatelawo ntsha okone, nduku dikambu diayeya mbashimba lu akambu wayuwusanguya ntsha.
Tutshu, tuhulo, tutufutanya oteketa awo, vo watukukana lam'ateketawo.
Osoku Latuyalaka akâdianganya etali lu beke tshe dia kete, ku vo wakakimo mpika usumba ako.
Lu dikambu diako mbakawole usumba ako vati: Babele (kitshimudi ati: Nfutanya), ne dia uma laawo mbakafutanya Latuyalaka oteketa wakawateketaka lu kete tshe. Ndu uma leko kakâdianganya Latuyalaka lu kete tshe.
Source: Etatelu (Genesis). Bible K'ekila. Afundelu W'ekila Wa Daka Di'edjedja La Daka Di'uyuyu. La Bible en Otetela. La Societé Biblique du Zaire, Kinshasa, 1992.
Contributed by Wolfgang Kuhl
Tetela is a Bantu language spoken in northern Kasai-Oriental Province in the Democratic Republic of the Congo by about 750,000 people.
More information about Tetela
http://en.wikipedia.org/wiki/Tetela_language
http://www.ethnologue.com/language/tll
Tower of Babel in Bantu languages
Bemba, Beti, Bulu, Chichewa, Dawida, Kamba, Kikuyu, Kinyarwanda, Kirundi, Koti, Kwanyama, Lamba, Lingala, Lozi, Luba-Katanga, Luganda, Luragooli, Mbunda, Mpongwe, Ndebele, Ndonga, Nkore, Northern Sotho, Nyakyusa, Sango, Sena, Shona, Soga, Southern Sotho, Sukuma, Swahili, Swati, Tetela, Tonga, Tsonga, Tswana, Tumbuka, Venda, Xhosa, Yao, Zulu
Other Tower of Babel translations