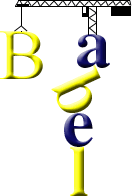 The Tower of Babel (Genesis 11: 1-9)
Chitonga/iciTonga (Tonga)
Myaambo yabantu mbuyakapilinganisigwa
Lino nyika yoonse kiijisi mwaambo omwe biyo amulaka omwe.
Nkabela bantu nebakali kuya kujwe bakajana ibanda munyika ya-Sinara, baakukala nkuko.
Lino bakaamba umwi aumwi kumweenzinyina kuti, Amuboole, tubumbe zitina, tuzitente kabotu. Aboobo zitina zyakababeda mabwe, amulambo wakababeda ciyosyo.
Alimwi bakati, Amuboole, tuliyakile munzi a?anda indamfu iisika akujulu. Atulicitile impuwo, kuti tutapalanganisigwi koonse koonse ansi.
Nbakela Jehova wakaseluka kuzoobona munzi a?anda indamfu bana ba-Adamu njibakali kuyaka.
Lino Jehova wakati, Bona ! Bantu mbamusyobo omwe biyo alimwi boonse balaamba mwaambo omwe biyo. Batalika kucita cintu eci, lino taakwe cikonzya kubakasya muzintu zyoonse nzebayeeya.
Atweende, tuseluke, tupilinganye mwaambo wabo, kuti batateelezyanyi nekuba kumvwa mwaambo umwi aumwi wamweenzinyina.
Elyo Jehova wakabamwaisya nkukonya oko, koonse koonse ansi, aboobo bakaleka kuyaka munzi.
Nciceeco oyo munzi ncowakaambilwa kuti ngu-Babelo, nkaambo nkukonya oko Jehova nkwaakapilinganinya mwaambo wanyika, alimwi kuzwa oko Jehova wakabapalanganya koonse koonse ansi.
Source: Ibbaibbele. Ibbuku Lyamajwi Aa-Leza. Cizuminano Cakale. Acizuminano Cipya. The Bible in Tonga (Zambia). The Bible Society of Zambia, 1990.
Contributed by Wolfgang Kuhl
Information about Tonga
http://en.wikipedia.org/wiki/Tonga_language_(Zambia)
http://www.ethnologue.com/language/toi
Tower of Babel in Bantu languages
Bemba, Beti, Bulu, Chichewa, Dawida, Kamba, Kikuyu, Kinyarwanda, Kirundi, Koti, Kwanyama, Lamba, Lingala, Lozi, Luba-Katanga, Luganda, Luragooli, Mbunda, Mpongwe, Ndebele, Ndonga, Nkore, Northern Sotho, Nyakyusa, Sango, Sena, Shona, Soga, Southern Sotho, Sukuma, Swahili, Swati, Tetela, Tonga, Tsonga, Tswana, Tumbuka, Venda, Xhosa, Yao, Zulu
Other Tower of Babel translations