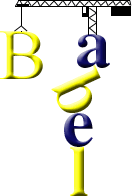 The Tower of Babel (Genesis 11: 1-9)
Mbunda (Mbúùnda)
Kaposhi ka Mbambilone
Akulivanga, vanu voshe vaano a kaye vendekele muyati umolika, na ndaka imolika.
Omo vaile mu ngangela, vetele mu cana ca mu Mbambilone, co vatungile muje.
Co valyendekesele umo na mukwavo ngwavo, "Tumungeni vindopi nakuvyenyeka mwamuvwa." Co vakele na vindopi vyakutunga navyo, amo na tala yakukolesa vindopi.
Asinoni valyendekesele ngwavo, "Tutungeni nganda yakama amo na kaposhi kalalaja kakete kwilu, ngeci tutsimane kutewa tukashandokela ano asi oshe."
Oloni Shukulu Kalunga wezile asi mukumona nganda na kaposhi vije vivatungile vaje vanu.
Co Shukulu Kalunga wendekele ngwendi, "Kengeni! Ava voshe vanapu vanu vamo, co vakevo valinakwendeka muyati umo, eci cinapu vushangumukilo vwa vyuma vije vivakalinga. Co ololo vakasa kulinga cuma coshe civashaka kulinga!
Ngecivene, tuyeni tushuluke asi, tukatanganese muyati wavo ngeci omo vendeka kesi valizive."
Ngecivene, Shukulu Kalunga wavashandwelele ano asi oshe, co vaje vanu valikelele kutunga ije nganda.
Co nganda ije vaitumbwile ngwavo Mbambilone omwo kuje kukekwo Shukulu Kalunga watanganesele muyati wa vanu voshe. Kutunda aje vene Shukulu Kalunga wavashandwelele ano asi oshe.
Source: Livulu lya Shukulu Kalunga. The Bible Society of Zambia, 2006
Contributed by Wolfgang Kuhl
Mbunda is a Bantu language spoken by about 335,000 people in Angola, Zambia, and Namibia.
More information about Mbunda
http://en.wikipedia.org/wiki/Mbunda_language
https://www.ethnologue.com/language/mck/
Tower of Babel in Bantu languages
Bemba, Beti, Bulu, Chichewa, Dawida, Kamba, Kikuyu, Kinyarwanda, Kirundi, Koti, Kwanyama, Lamba, Lingala, Lozi, Luba-Katanga, Luganda, Luragooli, Mbunda, Mpongwe, Ndebele, Ndonga, Nkore, Northern Sotho, Nyakyusa, Sango, Sena, Shona, Soga, Southern Sotho, Sukuma, Swahili, Swati, Tetela, Tonga, Tsonga, Tswana, Tumbuka, Venda, Xhosa, Yao, Zulu
Other Tower of Babel translations