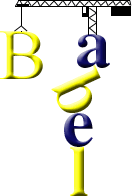 The Tower of Babel (Genesis 11: 1-9)
Kiluba (Luba-Katanga)
Ebiya panopantanda ponsololo padi ludimi lunga? lumo lonka, ne myanda mine mo.
Kabidi kwadi enka nenki, po badi benda lwendo lwa kutunduka, batana dilungu mu ntanda ya Shinadi; ino baikala konka.
Penepo kwivwana bene na bene amba: Twayai tukabumbe matafwadi ne kusoka tusoke'o biyambe, kadi matafwadi o mabwe, ne bitoto nabyo byo ke byakushimika nabyo.
Ebiya ke benena'mba: Twayai twishimikile kibundi kikatakata, kadi ne kiteba, mutwe wakyo utenge ne ku diulu kwine; nankyo twitumbije dijina, kutyina twakakusankena konso konso ku meso a ntanda.
Penepa Yehova watuka amone kibundi'kya ne kiteba kine kyo bashimika bana ba bantu.
Ebiya kwivwana Yehova kanena'mba: Monapo bidi, badi bamo bonka ne ludimi lumo lonka; kine kino'ki e kyo baalula kulonga; ino pano, kutupu kyakwibakankajapo kulonga mo bafwatakakenya kulonga, mhm.
Twayai bidi tutuke tuvutakanye konka ludumi lwabo, amba kebakivwanapo abo bene ne bene mo benenena.
E monka muno mwebasansaninye Yehova, konso konso ku meso a ntanda; ne kuleka baleka'byo kushimika kibundi.
Po pa mwanda o bekinikile dijina dyakyo bu-Babele; mwanda Yehova wavutakenyeko ludimi lwa bonso bapanshi, kadi konkako Yehova webapalakaninya konso konso ku meso a ntanda.
Source: Ngalwilo (Genesis). Mukanda Ukola Wa Mwine Leza. Kipwanino Kya Kala Ne Kipwanino Kipya. La Sainte Bbile en Kiluba. La Société Biblique du Zaïre, Kinshasa, 1980.
Contributed by Wolfgang Kuhl
Luba-Katanga is a Bantu language spoken in the south east of the Democratic Republic of the Congo by abouy 1.5 million people.
More information about Luba-Katanga
http://en.wikipedia.org/wiki/Luba-Katanga_language
http://www.ethnologue.com/language/lub
Tower of Babel in Bantu languages
Bemba, Beti, Bulu, Chichewa, Dawida, Kamba, Kikuyu, Kinyarwanda, Kirundi, Koti, Kwanyama, Lamba, Lingala, Lozi, Luba-Katanga, Luganda, Luragooli, Mbunda, Mpongwe, Ndebele, Ndonga, Nkore, Northern Sotho, Nyakyusa, Sango, Sena, Shona, Soga, Southern Sotho, Sukuma, Swahili, Swati, Tetela, Tonga, Tsonga, Tswana, Tumbuka, Venda, Xhosa, Yao, Zulu
Other Tower of Babel translations