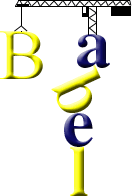 The Tower of Babel (Genesis 11: 1-9)
Mpongwe (Pongoué)
Nli yodu y'avegagi nl'onlumb' omo, nl'igamb' imo.
Nl'aroenli gw'agӗndi wao avila go tângwa nli nkombe, w'alӗngi odӗdӗ go ntye yi Syainar, nl'aloanli wao ṽâṽâ.
Nl'awuli wao onlome gore oganganlo wӗ inlӗ, Oviroanli, azuӗ ga vange ibrik avezya so njâlizaga; nl'aroenli gore wao ibrik gw'ado, nl'ojo nlambe w'aroenli gore wao iwonlo.
Nl'awuli wao inlӗ, Oviruanli, azuӗ ga nloginle ikui yazyo nka mpolo, nli nago ndondui, ewonjo zi ga luke g'orowa; azue ga vanginl' ikui yazyo ina, azue vende pazanganla g'ozyo wi ntye yodu.
Nl'azuminli Jehova go jenle nka' mpolo nli nago ndondui y'anlogio nl'awanlaga.
Nl'awuli Jehova inlӗ, Anlaga, wi r'omo, nl'onlumb' omo wi re gore waodu; ndo zinlâ z'apakili wao go denda, ndo venâ zye' zâma zi dego wao, zi re wao pikilia pa go denda.
Oviro, azue ga zuminle aṽeṽiza ṽâṽâ nkambinli yao; yenlâ kâ w'âgotize onlom᷃e onlumbu w'oganganlo wӗ.
Yenlâ avazanganli Jehova wao avila ṽâṽâ g'ozyo wi ntye yodu; nl'arigi wao noge nka' mpolo.
Yenlâ aṽelio ina nya yo inlӗ Bebal, kânde ṽâṽâ Jehova aṽeṽizi nkambinli yi ntye yodu; nl'avila ṽâṽâ avazanganli Jehova wao g'ozyo wi ntye yodu.
Source: Jӗnisis. Yango Y'Irӗndâ Y'Orunda: Kalunlio P'Avila Go Hebrew Nli Greek, Go Nkambinli Yi Mpongwe, Go Misyân Y'Amӗrika, Go Gaboon, West Afrika. American Bible Society, New York – 1885.
Contributed by Wolfgang Kuhl
Mpongwe is a variety of Myene, a cluster of closely related Bantu varieties spoken in Gabon.
More information about Mpongwe (Naga)
http://en.wikipedia.org/wiki/Mpongwe_language
http://www.ethnologue.com/language/mye
Tower of Babel in Bantu languages
Bemba, Beti, Bulu, Chichewa, Dawida, Kamba, Kikuyu, Kinyarwanda, Kirundi, Koti, Kwanyama, Lamba, Lingala, Lozi, Luba-Katanga, Luganda, Luragooli, Mbunda, Mpongwe, Ndebele, Ndonga, Nkore, Northern Sotho, Nyakyusa, Sango, Sena, Shona, Soga, Southern Sotho, Sukuma, Swahili, Swati, Tetela, Tonga, Tsonga, Tswana, Tumbuka, Venda, Xhosa, Yao, Zulu
Other Tower of Babel translations
By language | By language family