Adamaua Fulfulde (
ڢُلْڢُلْڊ

)

Adamaua Fulfulde is a variety of Fula spoken by about 1 million people mainly in Cameroon, and also in Chad, Sudan and Nigeria. It is also known as Adamaua Fulani, Biira, Boulbe, Domona, Dzemay, Eastern Fulani, Fufulde, Fula, and quite a few other names.
Arabic script for for Adamaua Fulfulde
The Arabic script was adapted to write Fula after the Arabic conquests of Africa. This version is known as ڢُلْڢُلْڊ عَجَمِيَ (Fulfulde 'ajamiya).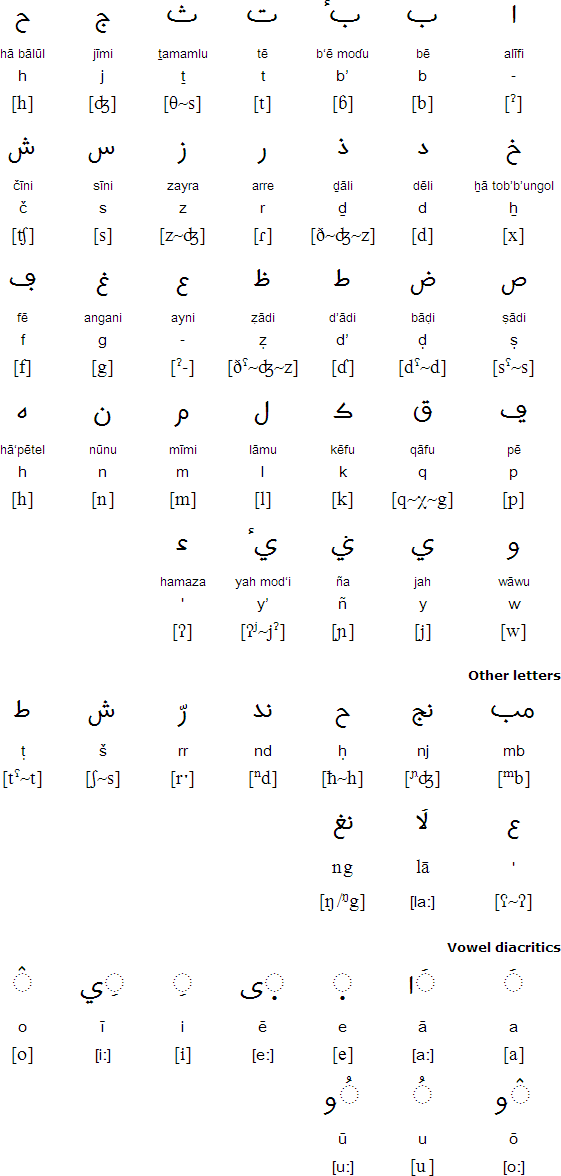 Latin alphabet for Adamaua Fulfulde
Download charts of the Adamaua Fulfulde alphabet in PDF or Excel format
Information supplied by Wolfram Siegel
Information about Fula | Adamaua Fulfulde | Adlam alphabet | Tower of Babel in Fula
Links
Information about the Fula language and alphabets
https://de.wikipedia.org/wiki/Adamaua-Fulfulde
https://www.ethnologue.com/language/fub
Senegambian languages
Adamaua Fulfulde, Fula(ni), Serer, Wolof
Other languages written with the Latin alphabet