Bosnian (bosanski / босански /
بۉسانسقى

)

Bosnian is a South Slavic language spoken mainly in Bosnia and Herzegovina by about 2.2 million people. On a formal level, Bosnian began to emerge as a distinct language after the break up of Yugoslavia in the 1990s. It became one of official languages of Bosnia and Herzegovina in 1994, along with Croatian and Serbian.

Bosnian is written with both the Cyrillic and Latin alphabets. Historically it was written with a version of the Cyrillic alphabet known as Bosnian Cyrillic from the late 10th century. This alphabet was only used in Bosnia. During the Ottoman era Bosnian was written with a version of the Arabic alphabet.

The first Bosnian dictionary, a rhymed Bosnian–Turkish glossary authored by Muhamed Hevaji Uskufi, was composed in 1631.

Bosnian is closely related to and mutually intelligible with Croatian, Serbian and Montenegrin. For more information see an article about Serbo-Croatian language issues.
Bosnian Cyrillic alphabet
This chart shows the Bosnian Cyrillic alphabet, which was used from the 10th century until the 20th century, in some places. It was never standardised and most letters had several different forms - the typical forms are shown here. Some of the letters used in the modern Bosnian Cyrillic alphabet were not used in this version, and there are some extras letters that are no longer used.

Arabic alphabet for Bosnian (Arabica/Alhamijado/Adzamijski)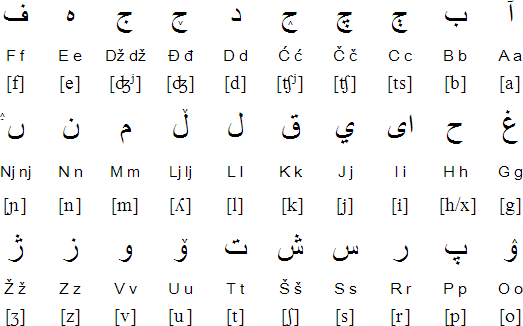 Latin and Cyrillic alphabets for Bosnian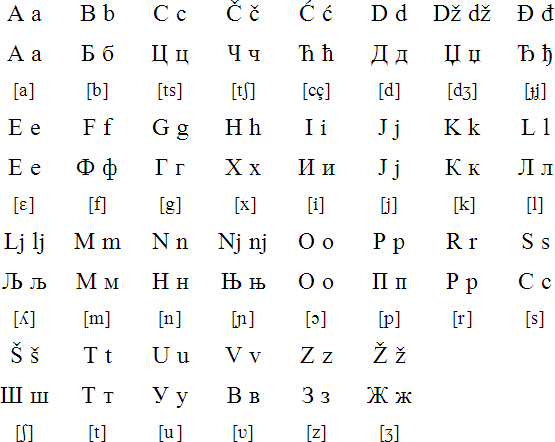 Download a Bosnian alphabet charts (Excel)
Bosnian sample text in the Cyrillic alphabet
Cвa љyдскa бићa paђajy сe слoбoднa и jeднaкa y дoстojaнствy и пpaвимa. Oнa сy oбдapeнa paзyмoм и свиjeшћy и тpeбa дa jeднo пpeмa дpyгoмe пoстyпajy y дyхy бpaтствa.
Bosnian sample text in the Latin alphabet
Sva ljudska bića rađaju se slobodna i jednaka u dostojanstvu i pravima. Ona su obdarena razumom i sviješću i treba da jedno prema drugome postupaju u duhu bratstva.
Bosnian sample text in the Arabic alphabet

Translation
All human beings are born free and equal in dignity and rights. They are endowed with reason and conscience and should act towards one another in a spirit of brotherhood.
(Article 1 of the Universal Declaration of Human Rights)
Sample video in Bosnian
Information about Bosnian | Phrases | Telling the time | Tower of Babel | Learning materials
Links
Information about Bosnian
http://en.wikipedia.org/wiki/Bosnian_language
Information about the Bosnian Cyrillic alphabet
http://en.wikipedia.org/wiki/Bosnian_Cyrillic
http://www.slavorum.com/index.php?topic=664.0
Bosnian courses
http://polymath.org/bosnian.php
http://www.101languages.net/bosnian/
Bosnian phrases
http://home.freeuk.net/iandart/elem_phrases.htm
http://www.bbc.co.uk/languages/other/quickfix/bosnian.shtml
http://www.101languages.net/bosnian/basics.html
http://wikitravel.org/en/Bosnian_phrasebook
Slavic languages
Belarusian, Bosnian, Bulgarian, Croatian, Czech, Kashubian, Macedonian, Montenegrin, Old Church Slavonic, Polish, Russian, Rusyn, Serbian, Silesian, Slovak, Slovenian, Sorbian, Ukrainian, West Polesian