Qashqai (Qaşqay dili / قشقاى ديلى)
Qashqai is a member of the Western Oghuz branch of the Turkic language family spoken by about 1.5 million people mainly in the Fars region of Iran. The Qashqai people also live in the provinces of Khuzestan, Kohgiluyeh and Boyer-Ahmad, Chaharmahal, Bakhtiari, Bushehr and southern Isfahan. Qashqai is considered a dialect of Azerbaijani by some linguists, and a separate language closely related to Azerbaijani by others.
Qashqai can be written with a version of the Perso-Arabic script, though rarely is.
Qashqai alphabet and pronunciation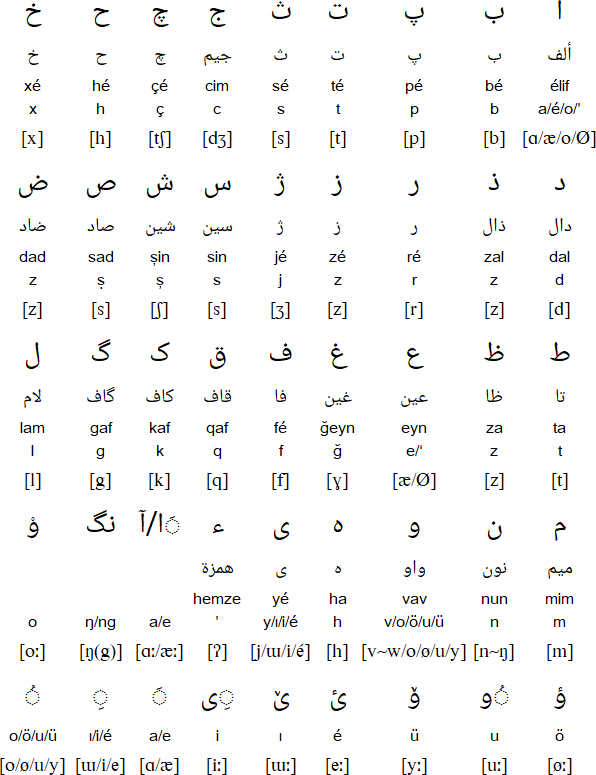 Notes
Short unstressed vowels are not normally written
ن is pronounced [ŋ] before

ﮒ، غ، ﻙ، ﻕ، ﺡ

ع، ظ، ط، ض، ص، ذ، ح، ث are only used in Arabic loanwords.
Download a chart of the Qashqai alphabet (PDF, in German)
Information compiled by Wolfram Siegel
Qashqai Latin alphabet
This version of the Latin alphabet is used to write Qashqai on some blogs.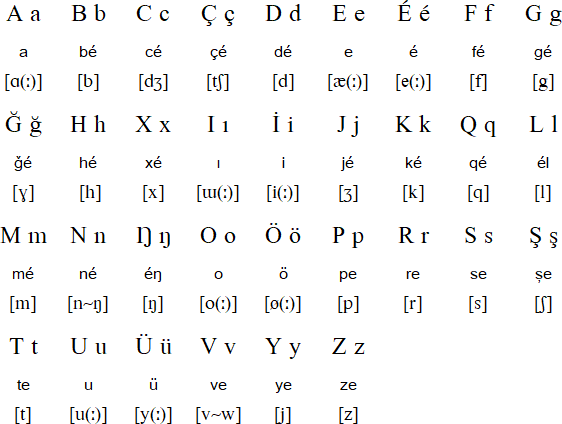 Information provided by Michael Peter Füstumum
Links
Information about Qashqai
https://en.wikipedia.org/wiki/Qashqai_language
http://www.ethnologue.com/language/qxq
http://www.iranicaonline.org/articles/qasqai-tribal-confederacy-ii-language
https://www.youtube.com/watch?v=KE0_n0ZiEqs
Turkic languages
Other languages written with the Arabic script