Arwi (அரபுத்தமிழ் /
لسانالأروي

)

Arwi is a version of the Arabic script used by Tamil-speaking Muslims in southern India and Sri Lanka to write Tamil. It is designed to help Tamil Muslims learn Arabic so that they can read the Quran and other literary works in Arabic.

Arwi is used to write about Sufism, law and medicine, as well as to write religious works. It is thought that by using the Arabic script to write about such things, mispronunciations of Arabic terms are less likely than if they are transliterated into the Tamil alphabet.

Arwi is not used very often, however is still taught in schools in southern India, and attempts are being made to increase the use of this script.
Used to write:
Tamil (தமிழ்), a Dravidian language spoken by around 52 million people mainly in southern India and Sri Lanka.
Arwi (Arabic Tamil)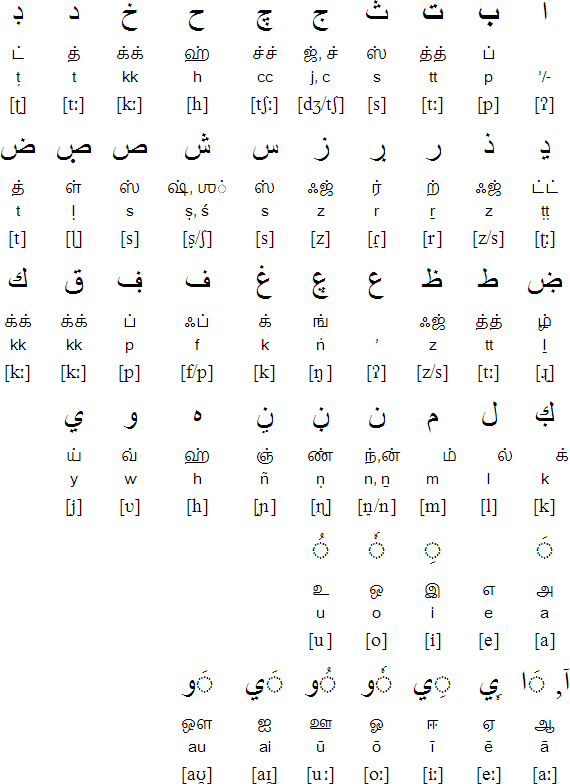 ب, ث, خ, ح, ذ, ض, ص, ع, ظ, ط, غ and ق are only used in Arabic loanwords.
Download an Arwi alphabet chart (Excel)
Sample text in Arwi

Details of the Arwi script and sample text supplied by Michael Peter Füstumum
Tamil script version

Transliteration
Maṉitap piṛaviyiṉar čakalarum čutantiramākavē piṛakkiṉṛaṉar; avarkaḷ matippilum urimaikaḷilum čamamāṉavarkaḷ. Avarkaḷ niyāyattaiyum maṉačāṭčiyaiyum iyaṛpaṇpākap peṛṛavarkaḷ. Avarkaḷ oruvaruṭaṉoruvar čakōtara uṇarvup pāṅkil naṭantukoḷḷal vēṇṭum.
Translation
All human beings are born free and equal in dignity and rights. They are endowed with reason and conscience and should act towards one another in a spirit of brotherhood.
(Article 1 of the Universal Declaration of Human Rights)
Information about Tamil | Arwi Arabic script for Tamil | Phrases | Numbers | Tower of Babel | Language learning materials
Links
https://en.wikipedia.org/wiki/Arwi
http://tamilculture.com/what-is-arwi-arabic-tamil/
http://taqwa.sg/v/articles/arwi-the-tamil-muslim-vernacular/
Dravidian languages
Badaga, Brahui, Gondi, Jatapu, Kannada, Kodava, Kolam, Konda, Koya, Kurukh, Malayalam, Mukha Dora, Sankethi, Savara, Sunuwar, Tamil, Telugu, Tulu, Yerukula
Other languages written with the Arabic script