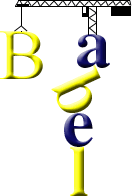 The Tower of Babel (Genesis 11: 1-9)
Southeast Ambrym / Taveak
Tetep Iaxa Sepinien Xil Mei Tehe Holu
Tetiamu nousav, moletin xil vus te ut etan latesepin ni sepinien tei takes.
E melele xa latemei latehe holu xa latehe holu, latekakao lathe ist. Latekakao teha vuma ... ba latepus ut tei xa mahulong e be motan xa tete tan xa mahulong xa lakesi ni 'Saenar'. Xil latenemi latehit bos tengan liti en.
Ma melele xa laduxoh rute ak, labiteni mi xil mun tang labit, "Mumei. Bos tengan ripol ni brikis xil ni tan xa pipili xiak, ti, rihul xat xil e vul tova tengan mei ixeih." Misak ni, xil lapol ni nim mae xil ni brikis xil ak e labil xati ni koltar.
Melele xa lapol ni bus, labiteni labit, "Mumei, ripol ni metimal tova xa mahulong itel nim tova xa eilep ihe nesao ha ituxoh tilang hat. Ngan ak isak ni xir rinatasil ti e mosav xil lilongeong ni hise xir."
Di, Iahova bemei etan e pus metimal xa mahulong xiak del nim xa eilep xa be nesao xa xil di lapol ni.
Melele xa pusi biteni bit, "Rumali, moletin xil ak di lapol ni neta xil xa tellep pupu. Xil di lapol vituei nggoni labe vatimol tei takes e sepinien nae mun tei takes. Ngan ak be vatite te polien nae. E nave nousav ti, xil likila lipol sein naha xa laling nenemien nae di en.
Mak, ma ratihe etan e rathilhiles sepinien nae tengan isak ni xil linalong kil xil ti mun."
Ma Iahova pol ni mak e misil tetasil ni moletin xil labe ut ngasen e ut etan, e latnapol vuol ni ti metimal xa mahulong xiak.
Misak ni, lakes metimal ak ni 'Babilon' xa koute teni be 'bilhiles' vengan xa, e rute ak vari iaxa Iahova tehilhiles sepinien na moletin xil vus e tesil tetasil ni xil ba lateti ut xil vus e ut etan.
Source: http://baebol.org/tvk/GEN11.htm#V0
Contributed by Wolfgang Kuhl
Information about Ambrym
http://www.ethnologue.org/language/tvk
http://en.wikipedia.org/wiki/Ambrym
Tower of Babel in Malayo-Polynesian Languages
Acehnese, Adzera, Amarasi, Ambrym, Anuki, Are, Balinese, Bambam, Bariai, Batak Angkola, Batak Simalungun, Batak Toba, Biatah Bidayuh, Bola, Bugis, Caribbean Javanese, Dawan, Fijian, Helong, Hiri Motu, Iban, Indonesian, Jarai, Kadazandusun, Kahua, Kakabai, Kambera, Kaninuwa, Kenyah, Kurti, Javanese, Luang, Madurese, Makassar, Malagasy, Malay, Mbula, Misima-Paneati, Motu, Nali, Ngaju, Nias, North Efate, Nyindrou, Paama, Palawano, Rade, Rotuman, Saveeng Tuam, Suau, Sundanese, Timugon Murut, Tolai, Tontemboan, Toraja-Sa'dan, Tungag, Ubir, Wandamen, Yabem
Other Tower of Babel translations
By language | By language family