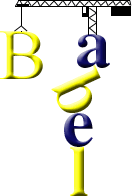 The Tower of Babel (Genesis 11: 1-9)
Caribbean Javanese
Bujare Manungsa
Mbijèn-mbijèné manungsa kabèh pada tunggal tembung, tegesé mbijèn namung ènèng basa sidji. Kadung wong-wong pada manggon ning negara Sinéar, ning kono terus pada kepéngin nggawé kuta sing gedé, supaja kabèh bisa manggon dadi sidji lan ora usah pada pentjar. Kuta sing arep digawé iki kudu ènèng omahé sing duwur mbanget, sampèk putjuké mèh sundul langit. Mulané wong-wong ija terus pada molai nggawé watu lan pada sambatan ngerdjani omah Gusti Allah weruh wong-wong pada mempeng njambut gawé. Dèkné terus rasan-rasan: "Wah, lah saiki waé wis pada nduwé akal kaja ngono? Lah mbésuk gèk keprijé? Apa karepé bakal keturutan." Gusti Allah terus ngomong: ""Hajuk wong-wong dibingungké, bèn ora bisa dunung marang sak pada-pada !" Kekarepané Gusti ija terus klakon tenan. Wong-wong malih ora bisa dunung lan ngerti apa sing diomong karo lijané. Dadiné sing pada nggawé omah duwur ija ora bisa dadi. Kabèh terus pada bujar lan pentjar rata ing sak lumahé bumi. Mulané kutané terus didjenengké Babel, mergané ning kono wong-wong molai ora dunung omongané lijané.
Source: Wiwitané Djaman. Het Begin.Verhalen uit de Bijbel Boek Genesis verteld in het Surinaams Javaans. Instituut voor Taalwetenschap, Paramaribo, Suriname, 1984.
http://www.ethnologue.org/language/jvn
Contributed by Wolfgang Kuhl
Information about Caribbean Javanese
Caribbean Javanese or Suriname Javanese is a variety of Javanese spoken in Suriname and French Guiana by about 60,000 people.
http://www.ethnologue.com/language/jvn
Tower of Babel in Malayo-Polynesian languages
Acehnese, Adzera, Amarasi, Ambrym, Anuki, Are, Balinese, Bambam, Bariai, Batak Angkola, Batak Simalungun, Batak Toba, Biatah Bidayuh, Bola, Bugis, Caribbean Javanese, Dawan, Fijian, Helong, Hiri Motu, Iban, Indonesian, Jarai, Kadazandusun, Kahua, Kakabai, Kambera, Kaninuwa, Kenyah, Kurti, Javanese, Luang, Madurese, Makassar, Malagasy, Malay, Mbula, Misima-Paneati, Motu, Nali, Ngaju, Nias, North Efate, Nyindrou, Paama, Palawano, Rade, Rotuman, Saveeng Tuam, Suau, Sundanese, Timugon Murut, Tolai, Tontemboan, Toraja-Sa'dan, Tungag, Ubir, Wandamen, Yabem
Other Tower of Babel translations