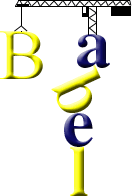 The Tower of Babel (Genesis 11: 1-9)
Biatah Bidayuh
Tawā Babylon
Sibungas-i, bara daya di ndi ong ong biyŭn ndi piminyu ka pakai ndi masam bang bang piminyu.
Darŭm ngara bigandon di tarun tana di timor, ngara ndŭg tarun tana rabak di Babylonia ka rŭŭ diginŭ.
Ngara nang dupan adŭp ngara, "Ja ata ndai batuh batā! Ata badang-i da riang." Jadi ngara biyŭn batuh batuh batā ka biyŭn gŭh tar ngga pirakat batuh batā anŭ.
Ngara nang, "Ja ata ndai ndi kupo ngga tawā-i adi bigatung ndŭg rangit, isa ata tungang bada dŭn ta timagah ka dŭh re papar sasah di ndi ong ong."
Komŭnŭ Tuhan mūn di tingga kupo ngga tawā adi ngara ko ndai,
ka nang, "Ngara ati, adi taŭn-i ndi bangsa daya adi minyu ndi masam piminyu; ati gi-sibungas kayuh adi ngara re ndai. Dŭh tui ngara re tungang ndai tadŭ tadŭ kayuh adi ngara raan!
Ja ata mūn di ngarut piminyu ngara isa ngara dŭh mirati dingan-i."
Jadi Tuhan mesak ngara bada papar sasah di ndi ong ong ka ngara dŭh pijuu ndai kupo anŭ.
Kupo anŭ dog kadŭn Babylon, sabab diginŭ Tuhan ngarut piminyu sopŭrŭg daya, ka so nŭ Ayŭh mesak ngara bada papar sasah di ndi ong ong.
Source: Tibirik (Genesis). Simanya Bauh Agah Kana. The Bible in Biatah Bidayuh, 2003.
Contributed by Wolfgang Kuhl
Biatah Bidayuh is a Malayo-Polynesian language spoken in the Malaysian state of Sarawak and the Indonesian province of Kalimantan Barat.
More information:
http://en.wikipedia.org/wiki/Biatah_Bidayuh_language
http://www.ethnologue.com/language/bth
Tower of Babel in Malayo-Polynesian languages
Acehnese, Adzera, Amarasi, Ambrym, Anuki, Are, Balinese, Bambam, Bariai, Batak Angkola, Batak Simalungun, Batak Toba, Biatah Bidayuh, Bola, Bugis, Caribbean Javanese, Dawan, Fijian, Helong, Hiri Motu, Iban, Indonesian, Jarai, Kadazandusun, Kahua, Kakabai, Kambera, Kaninuwa, Kenyah, Kurti, Javanese, Luang, Madurese, Makassar, Malagasy, Malay, Mbula, Misima-Paneati, Motu, Nali, Ngaju, Nias, North Efate, Nyindrou, Paama, Palawano, Rade, Rotuman, Saveeng Tuam, Suau, Sundanese, Timugon Murut, Tolai, Tontemboan, Toraja-Sa'dan, Tungag, Ubir, Wandamen, Yabem
Other Tower of Babel translations