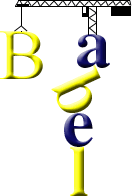 The Tower of Babel (Genesis 11: 1-9)
Hiri Motu
Babela ena kohoro
Gunaguna neganai tanobada ibounai ena taunimanima ibounai edia gado be tamona, edia hereva danu be hegeregere.
Dina ia daekau kahana dekenai idia laolao noho neganai, tano palaka ta idia davaria, Sinara tano dekenai. Vadaeni unuseni idia noho.
Vadaeni idia sibona dekenai idia herevahereva, idia gwau, "Namo, raro nadi momo ita karaia namo, lahi dekenai ita gabua namonamo." Vadaeni, raro nadi idia abia hegaegae, haginia gaukara totona, bona pisi danu idia abia, raro nadi ena kamokamo gauna.
Vadaeni, ma idia gwau, "Hari, hanua badana ta ita karaia be namo, iena kohoro be guba dekenai do ia kamokau. Unai dekena amo iseda ladana do ia bada, tanobada kahana kahana ibounai dekenai do ita loaloa kava noho garina."
Vadaeni Lohiabada ia diho, hanua bona kohoro, inai taudia idia karaia gauna do ia itaia totona. 6 Bona ia gwau. "Hari inai taudia be bese tamona, bona gado tamona idia veria noho. Idia karaia hamatamaia gauna be inai. Gabeai, bema gau ta idia ura karaia, daika ese edia dala do ia koua?
Ita diho namo, bona edia gado do ita haidaua, vadaeni ta ta idia edia hereva be do idia kamonai diba lasi."
Vadaeni, Lohiabada ese ia luludia tanobada kahana kahana ibounai dekenai, bona edia hanua badana haginia gaukara idia hadokoa.
Unai hanua ena ladana be Babela, badina be unuseni dekenai Lohiabada ese taunimanima edia gado ia haidaua, bona unai gabu dekena amo ia luludia, tanobada kahana kahana ibounai dekenai idia lao.
Source: http://pngscriptures.org/hmo/GEN11.htm#V0
Contributed by Wolfgang Kuhl
Information about Hiri Motu
http://www.ethnologue.org/language/hmo
http://en.wikipedia.org/wiki/Hiri_Motu_language
Tower of Babel in Malayo-Polynesian languages
Acehnese, Adzera, Amarasi, Ambrym, Anuki, Are, Balinese, Bambam, Bariai, Batak Angkola, Batak Simalungun, Batak Toba, Biatah Bidayuh, Bola, Bugis, Caribbean Javanese, Dawan, Fijian, Helong, Hiri Motu, Iban, Indonesian, Jarai, Kadazandusun, Kahua, Kakabai, Kambera, Kaninuwa, Kenyah, Kurti, Javanese, Luang, Madurese, Makassar, Malagasy, Malay, Mbula, Misima-Paneati, Motu, Nali, Ngaju, Nias, North Efate, Nyindrou, Paama, Palawano, Rade, Rotuman, Saveeng Tuam, Suau, Sundanese, Timugon Murut, Tolai, Tontemboan, Toraja-Sa'dan, Tungag, Ubir, Wandamen, Yabem
Other Tower of Babel translations
By language | By language family