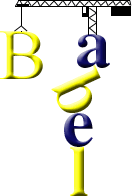 The Tower of Babel (Genesis 11: 1-9)
Mbula
Urum Babel ta uteene isala kat
Ka꞉yapa ta꞉lamo pato hema opa hapulomatapo yu hatlo mate yuhamha꞉ha꞉iyo.
Muŋgu zin tomtom ta timbot su toono na, zin ta boozomen kalŋan tamen.
Mi zin tizirri zin ma tilala pa zoŋ uunu, to tindeeŋe lele keteeneŋana ta, ta imbot pa lele pakaana ki Sinar, mi tipun su tana.
To timaŋga mi tiparso pizin ta kembei: "Lak! Kozo totooro toono sa mi teneene pa you be ipet ma iwe kembei ta pat mbolŋana i." Tana tikam ta kembei, to len koroŋ be tipo ruumu mbolŋana pa. Mi tikam koroŋ toro kembei ta zim i, be ikis pat tana ma imbol.
To timaŋga mi tiso: "Lak! Kozo iti tuur lende kar biibi sa, mi topo urum tau uteene isala ma koŋsala saamba. Naso zanda iwe biibi. Mi koroŋ toro tomini. Uraata biibi tiŋgi ko ilup ti ma tewe tamen. Kokena tumureege ma tombot leŋaleŋa irao toono ta boozomen."
To Merere isu be ilou zin, mibe ire kar biibi mi urum tau tomtom tiwwo ma uteene isala ta kor a.
Tabe iso: "Wae! Zin tomtom tau tilup ma tiwe tamen kek. Mi tiso kalŋan tamen. Mi iŋgi timaŋga pa uraata biibi ta tiŋgi tomini. Tana kaimer ko matan pasom uraata bibip ta boozomen.
Kozo tusula mi totooro kalŋan ma iwe ndelndelŋa. Naso tapakankaana zin ma irao tiparleŋ kalŋan mini som."
Tona Merere iyaŋgwiiri zin mi tiko papirik ma tirao pa lele ta boozomen. Tana tizem uraata biibi tana ma imborene.
Kar biibi tana, tipaata zaana be 'Babel.' Paso, indeeŋe ta tomtom ta boozomen timbotmbot tana na, Merere itooro kalŋan bekena ipakankaana zin, mi iyaŋgwiiri zin ma tila tirao pa toono ta boozomen.
Source: http://pngscriptures.org/mna/GEN11.htm#V0
Contributed by Wolfgang Kuhl
Information about Mbula | Tower of Babel in Mbula
Tower of Babel in Malayo-Polynesian Languages
Acehnese, Adzera, Amarasi, Ambrym, Anuki, Are, Balinese, Bambam, Bariai, Batak Angkola, Batak Simalungun, Batak Toba, Biatah Bidayuh, Bola, Bugis, Caribbean Javanese, Dawan, Fijian, Helong, Hiri Motu, Iban, Indonesian, Jarai, Kadazandusun, Kahua, Kakabai, Kambera, Kaninuwa, Kenyah, Kurti, Javanese, Luang, Madurese, Makassar, Malagasy, Malay, Mbula, Misima-Paneati, Motu, Nali, Ngaju, Nias, North Efate, Nyindrou, Paama, Palawano, Rade, Rotuman, Saveeng Tuam, Suau, Sundanese, Timugon Murut, Tolai, Tontemboan, Toraja-Sa'dan, Tungag, Ubir, Wandamen, Yabem
Other Tower of Babel translations
By language | By language family