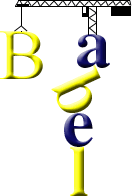 The Tower of Babel (Genesis 11: 1-9)
Nyindrou
Bokok Asiu Badu Babilon
Kwetkwet meeniŋ hogohogok medehik kubugoŋ hogok hakuk. Eŋ nemek wouwou u wanakaŋ kubugoŋ halune yonadiyagiŋ.
Unduŋ tiŋa adi mele labulabuneŋkade uge uge Babiloniya kwetneŋ gutuŋ wapum niŋ tubumintaaŋ uŋoŋ yokwet maaŋ itougiŋ.
Ma mwena handru badeh lau badu munyak badeh asehek boho kon randra le.
Eme iri badeh adek ala ame loboho an eme loken, eme iri ame Babilon ma ado aliy ado ai.
Ano badeh iri lelen iri ari ari, "Ado kame! Ya to kapon ndren ma kamwekes kabadok." Eme iri asun ndren i bek ano iri amwekes alis i ta bek ta kasabata-an ki se.
eme iri anya, "Taha kamwekes asiu bokok kudu bolo kon dah ki loken bolo asi kandrah, eme ma to kasore nyara to ma to badeh saseker sala bolo munyak mari."
Eme badeh Laban eme andri bolo kon nane doh ma anyolom asiu nane iri atah ma atudun dah.
Ano ma iy anya, "Iri lau dah badeh iri rabuk le, ma iri asehek sahou randra le; I dah ma mwena ai, ta iri amwekes lakou dah. Mirihik kameh iri amwekes lakou leleyah na seken tiri ai.
To ka-au ka andri, katubuni boho kon tiri, eme ya iri sanuhun sahou tiri ari ari."
Eme badeh Laban sekerei iri badeh winiya munyak mari, ma iri ruwani asiu bokok ma iri batah bwe ai
Kon tinan nane doh nyaran Babilon, tasah Kindrei badeh tubuni boho kon tiri lau mari ma kabatana doh badeh iri lau aseker ma weleyani kon munyak mari.
Source: http://pngscriptures.org/lid/GEN11.htm#V0
Contributed by Wolfgang Kuhl
Information about Nyindrou
http://www.ethnologue.org/language/lid
http://en.wikipedia.org/wiki/Nyindrou_language
Tower of Babel in Malayo-Polynesian Languages
Acehnese, Adzera, Amarasi, Ambrym, Anuki, Are, Balinese, Bambam, Bariai, Batak Angkola, Batak Simalungun, Batak Toba, Biatah Bidayuh, Bola, Bugis, Caribbean Javanese, Dawan, Fijian, Helong, Hiri Motu, Iban, Indonesian, Jarai, Kadazandusun, Kahua, Kakabai, Kambera, Kaninuwa, Kenyah, Kurti, Javanese, Luang, Madurese, Makassar, Malagasy, Malay, Mbula, Misima-Paneati, Motu, Nali, Ngaju, Nias, North Efate, Nyindrou, Paama, Palawano, Rade, Rotuman, Saveeng Tuam, Suau, Sundanese, Timugon Murut, Tolai, Tontemboan, Toraja-Sa'dan, Tungag, Ubir, Wandamen, Yabem
Other Tower of Babel translations
By language | By language family