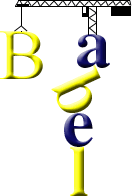 The Tower of Babel (Genesis 11: 1-9)
Toraja-Sa'dan
Menara dio Babel sia katangsiissananna basa
Iatu mintu' nasambo; langi' narande tana sangrupari tu basa sia kada.
Iatonna male lako rampe matallo tu tau iato mai, nakabu'tuimi tu misa' padang malona' dio tana Sinear, torromi ma'tondok dio.
Sipa'kadami tinde mai tau nakua: Maikomi anta garaga batu tela sia tapemeloi tununna. Iatu batu tela napasondana batu tongan na gala-gala napopi'da'.
Sia nakuapa: Maikomi anta bangun misa' tondok sia misa' menara tu la sumpu langan langi' tu lolokna; susimoto la tanii unggaraganni tanda kalelean tu kaleta, da anta sisarak-sarak lan te lino.
Ta'kala mengkalaomi tu PUANG la untiroi tu tondok sia menara tu nabangun ma'rupa tau.
Nakua kadanNa PUANG: Mintu' torro tolino misa' bangsari sia misa' basari; mane randuknari penggauran te; nakua lan penaanna, tae' natang la dadi tu mintu' apa nasanga la napogau'.
Melo ke mengkalaoKi' umpatangma'runduananni tu kadanna anna tangsiissanan.
Susimorato Napasisarak-sarakki PUANG lan lu te lino, natorroimi umbangunni tu tondok iato.
Iamo bannangna to anna sangai Babel tu tondok iato, belanna dio Nanii PUANG umpatangma'runduananni tu kadanna mintu' to untorroi kuli'na padang. Indemoto dio nanii PUANG umpasisarak-sarakki tu tau iato mai lan lu te lino.
Source: Kadadian (Genesis). Sura' Madatu. The Toraja Bible. Lembaga Alkitab Indonesia. Indonesian Bible Society, 2009.
Contributed by Wolfgang Kuhl
Toraja-Sa'dan is a Malayo-Polynesian language spoken in West Sulawesi in Indonesia by about 500,000 people.
More information:
http://en.wikipedia.org/wiki/Toraja-Sa%E2%80%99dan_language
http://fr.wikipedia.org/wiki/Sa%27dan-toraja
http://www.ethnologue.com/language/SDA
Tower of Babel in Malayo-Polynesian languages
Acehnese, Adzera, Amarasi, Ambrym, Anuki, Are, Balinese, Bambam, Bariai, Batak Angkola, Batak Simalungun, Batak Toba, Biatah Bidayuh, Bola, Bugis, Caribbean Javanese, Dawan, Fijian, Helong, Hiri Motu, Iban, Indonesian, Jarai, Kadazandusun, Kahua, Kakabai, Kambera, Kaninuwa, Kenyah, Kurti, Javanese, Luang, Madurese, Makassar, Malagasy, Malay, Mbula, Misima-Paneati, Motu, Nali, Ngaju, Nias, North Efate, Nyindrou, Paama, Palawano, Rade, Rotuman, Saveeng Tuam, Suau, Sundanese, Timugon Murut, Tolai, Tontemboan, Toraja-Sa'dan, Tungag, Ubir, Wandamen, Yabem
Other Tower of Babel translations