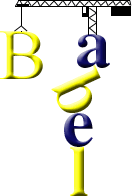 The Tower of Babel (Genesis 11: 1-9)
Anganiwai (Kahua)
Na runa i akê ngavê i Babele
Hagenago na enoni i maveta hagenani la nahunia na tamasinga gi tage ma, ma ka tamasi igê na tamasinga gi tage ma.
Matena ga suga tanga i kerekê, ngaira ka ata igê na bena i Babilonia ma ka oga igê.
Ngaira ka neaganari, ka vi: "Nika, ge tagarahigi na hê renigi na mako ma ka hanugi ki gatagata. "Vikê ngaira ki tonga na hê tangara, hanana viga tagarahia na ruma ma na marâ tanga i purupuru haku renigi.
Ngaira ka vi: "Hoi, ge tagarahia na hinua raha henia ta na ruma i akê teha ngavê ki tariha i vavearo, hanana i rongo raha na ataka. I ngekana igia ki asa vige totoko suria na maveta hagenani."
Ma hemuri na Araha ki soso me ki rigia na hinua raha henia na ruma i akê teha ngavê na enoni ka tagarahia.
Ngaia ki tako, ki vi: "Bâ, na tarana ga katoa ki kahu haganega, ma hemuri ngaira ka page girara ga katogi na ani mavê na marâ ga obainigi. Ngaira ka voravora mênga na enoni haku ma na tamasinga iata ki gi tage togo ma.
Nika, ge râ ma ke katogi na tamasinga iata ke tora hegitigi, hanana siana ngaira ka giraragiheri na tamasinga iata."
Ngekana na Araha ki tokorenira suira na maveta hagenani, ma ngaira ka rumakaka vê renia na hinua raha.
Na atana na hinua raha ngekana kani i Babele, suria ngekana na Araha ki katogi igê na tamasinga iata na enoni hato ka tora hegitigi, ma tenia i ngekana ngaia ki tokorenira na enoni hato suria na maveta hagenani.
Source: Buka Apuna (I Lotu Katolika), Kahua Catholic Bible (Solomon Islands), Bible Society of the South Pacific, 2011.
Contributed by Wolfgang Kuhl
Kahua is Malayo-Polynesian language spoken on the island of Makira in the Solomon Islands.
More information about Kahua
https://en.wikipedia.org/wiki/Kahua_language
https://www.ethnologue.com/language/agw/
Tower of Babel in Malayo-Polynesian languages
Acehnese, Adzera, Amarasi, Ambrym, Anuki, Are, Balinese, Bambam, Bariai, Batak Angkola, Batak Simalungun, Batak Toba, Biatah Bidayuh, Bola, Bugis, Caribbean Javanese, Dawan, Fijian, Helong, Hiri Motu, Iban, Indonesian, Jarai, Kadazandusun, Kahua, Kakabai, Kambera, Kaninuwa, Kenyah, Kurti, Javanese, Luang, Madurese, Makassar, Malagasy, Malay, Mbula, Misima-Paneati, Motu, Nali, Ngaju, Nias, North Efate, Nyindrou, Paama, Palawano, Rade, Rotuman, Saveeng Tuam, Suau, Sundanese, Timugon Murut, Tolai, Tontemboan, Toraja-Sa'dan, Tungag, Ubir, Wandamen, Yabem
Other Tower of Babel translations
By language | By language family