Urum (Тоъфа дыл)
Urum is a Turkic language spoken by about 190,000 people in Ukraine. Urum belongs to the Kypchak branch of the Turkic language family and is spoken mainly in the south east of Ukraine. It is considered by some a variety of Crimean Tatar.
The name of the language comes from the word Rûm (Rome), which was the name used in the Muslim world for the Byzantine empire, and it was also used in the Ottoman Empire for non-Muslims.
Urum has been written with the Greek alphabet, and between 1927 and 1937 it was written with a version of the Latin alphabet known as the New Turkic Alphabet, and it was taught is some schools. After 1937 it was not used in writing. A primer in Urum published in 2008 uses the version of the Cyrillic alphabet shown below.
Urum alphabet (Урум алфавит)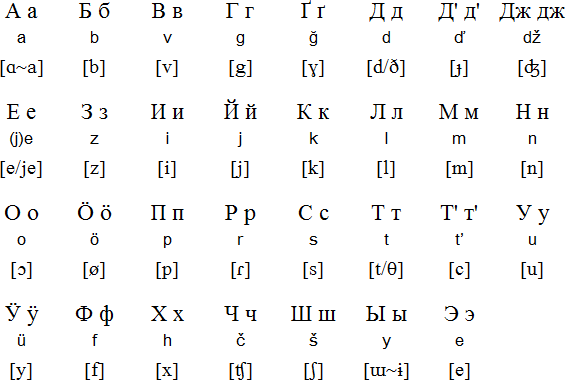 Download Urum alphabet chart provided by Wolfram Siegel (Word doc, in German)
Information about the Urum alphabet supplied by Wolfram Siegel
Links
Information about the Urum language
http://en.wikipedia.org/wiki/Urum_language
http://projects.turkmas.uoa.gr/urum/
http://www.ethnologue.com/language/uum/
http://hellenisteukontos.blogspot.co.uk/2010/04/status-of-urum.html
Turkic languages
Other languages written with the Cyrillic alphabet