Cockerel / Rooster sounds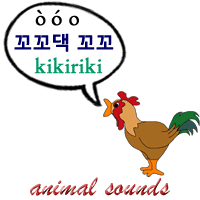 How to write the sounds made by cockerels / roosters in different languages.
Language
Sounds
Afrikaans
koekeloekoe
Albanian
kikiriki
Arabic
kuku-kookoo, kuku-reekoo, esku kookoo, (siqaa)

صقاع

Armenian
tsoo-ghoo-roo-ghoo, coo-coo-ree-coo
Basque
kukurruku
Bengali
kuk-ku-ruk-kooo
Bulgarian
кукуригу (cucurigu)
Catalan
quiquiriquic, cocorococ
Chinese (Mandarin)
咕咕咕 (gū gū gū)
Croatian
kukuriku
Czech
kykirikí
Danish
kykkeliky
Dutch
kukeleku
English
cockadoodledoo, cock-a-doodle-doo
Estonian
kikerikii, kukeleegu
Finnish
kukkokiekuu, kukko (cock), kiekuu (crowing)
French
cocorico
Georgian
ყიყლიყო (qiqliqo)
German
kikeriki
Greek
(Modern)
κικιρίκου (kikiriku)
Hebrew
(quuquuriqu)

קוּקוּרִיקוּ

Hindi
ku-kudu-koo
Hungarian
kukurikú
Icelandic
gaggalagó
Indonesian
kukuruyuk
Irish
cuc-adiú-dil-ú, a cháich, éirigí éirigí
Italian
chicchirichi
Japanese
コケコッコー (kokekokkō)
Korean
꼬꼬댁 꼬꼬 (kkokkodek kko), 꼬끼오 (kko-kki-o)
Latgalian
kikerigū, kikerigī, ko ko ko kō
Latin
cocococo
Latvian
kikerigū
Lithuanian
kakarykū, kakariekū
Macedonian
кукурику (kukuriku)
Malayalam
kokarakkoo
Marathi
कुकूच-कू (kukooch-koo!)
Nepali
kukhuri kaa
Norweigan
kykkeliky
Persian
(Farsi)
qūqūli qū-qū
Polish
kukuryku
Portuguese
cocorocó, cocoricó
Romanian
cucurigu
Russian
кукареку (ku-ka-re-ku)
Scottish Gaelic
gog-a-ghuidhe-ghaoidhe
Serbian
кукурику (kukuriku)
Sinhala
කුක්කු කූක් කූ (kuku kūk kuu)
Slovenian
kikiriki
Spanish
quiquiriquí, quiquiriquiquí, cocorocó
Sundanese
kongkorongok
Swedish
kuckeliku
Tagalog
tik-tilá-ok, ko-ko-ro-kok
Tamil
kokkara-ko-ko
Telugu
kokkaro-ko
Thai
เอ้กอี๊เอ้กเอ้ก (ek-i-ek-ek)
Turkish
ü-ürü-üüü
Ukrainian
koo-ku-ri-koo кукуріку
Vietnamese
ò ó o
Welsh
coc-a-dwdl-dŵ, go-go-go
How to pronounce some of these words
Source
https://en.wikipedia.org/wiki/Cross-linguistic_onomatopoeias#Animal_sounds
Cats, Cockerels, Cows, Dogs, Ducks, Horses, Owls
Useful phrases | Silly phrases | Numbers | Numerals | Colours | Telling the time | Dates | Weather words | Family words | Terms of endearment | Language names | Country names | Idioms | Proverbs | Tongue twisters | Signs | Compass directions | UDHR | Tower of Babel | Songs | Omniglot | Seven dwarfs | Zodiac signs | Computer parts | Compass directions | Animal sounds
[top]
---

Why not share this page:

If you like this site and find it useful, you can support it by making a donation via PayPal or Patreon, or by contributing in other ways. Omniglot is how I make my living.
Note: all links on this site to Amazon.com
, Amazon.co.uk
and Amazon.fr
are affiliate links. This means I earn a commission if you click on any of them and buy something. So by clicking on these links you can help to support this site.
Get a 30-day Free Trial of Amazon Prime (UK)
If you're looking for home or car insurance in the UK, why not try Policy Expert?
[top]