Nepali (नेपाली)
Nepali is a member of the Eastern Pahari branch of the Indo-Aryan language family spoken mainly in Nepal and northern India by about 25 million people. In 2011 there were about 20.9 million speakers of Nepali in Nepal, where it is a statutory national language. About 45% of the people in Nepal (12.3 million) speak Nepali as their mother tongue, and another 33% (8.6 million) speak it as a second language. It is the main language of government, education and the legal system.
Nepali at a glance
Native name: नेपाली (nepālī) [ˈnepali]
Language family: Indo-European, Indo-Iranian, Indo-Aryan, Northern Zone, Eastern Pahari
Number of speakers: c. 25 million
Spoken in: Nepal, India, Bhutan, Brunei, Myanmar
First written: c. 981 AD
Writing systems: Devanagari script, Ranjana script, Brahmi script
Status: statutory national language of Nepal, statutory provincial language in the Indian states of Sikkim and West Bengal
There are about 2.9 million Nepali speakers in India, mainly in the states of Sikkim and West Bengal, where it is a statutory provincial language, and also in the states of Arunachal Pradesh, Assam, Himachal Pradesh, Manipur, Mizoram and Uttarakhand.
Other countries with significant numbers of Nepali speakers include Myanmar (299,000), the USA (94,200), Bhutan (85,000), Australia (62,000) and the UK (52,800) [source]. Nepali speakers in Bhutan make up about 35% of the population and are known as Lhotsampa (ལྷོ་མཚམས་པ་).
Historically, Nepali was called Khas Kura (खस कुरा, khasa kurā), spoken by the Khas people of Karnali, and Gorkhali (गोरखाली, gorakhālī), the language of the Gorkha Kingdom, before the term Nepali (नेपाली, nepālī) was adopted. The origin of the modern Nepali language is believed to be from Sinja Valley in Jumla. The Nepali dialect Khas Bhasa (खस भाषा, khasa bhāṣā) is still spoken among the people of the region.
Nepali was first written in the Brahmi script in about 981 AD during the reign of King Bhupal Damupal. From the 12th century, the Devanagari alphabet, which developed from the Brahmi script in the 11th century, became the primary script for Nepali.
Devanāgarī alphabet for Nepali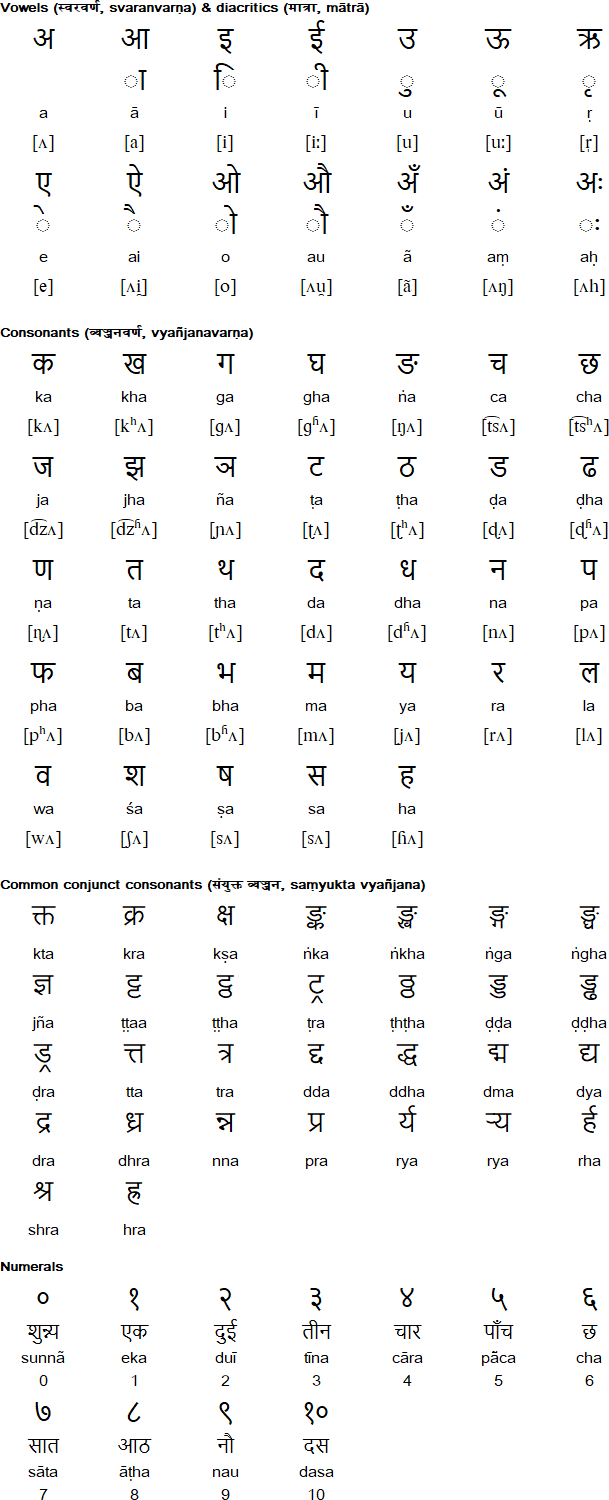 Download an alphabet chart for Nepali (Excel)
Hear how to write and pronounce Nepali
Sample text in Nepali
सबै व्यक्तिहरू जन्मजात स्वतन्त्र हुन्, ती सबैको समान अधिकार र महत्त्व छ । निजहरूमा विचार शक्ति र सद्विचार भएकोले निजहरूले आपस्तमा भ्रातृत्वको भावनाबाट व्यवहार गर्नुपर्छ ।
Transliteration
Sabai vyaktiharū janmajāta svatantra hun, tī sabaiko samāna adhikāra ra mahattva cha. Nijaharūmā vicāra śakti ra sadvicāra bhaekole nijaharūle āpastamā bhrātṛtvako bhāvanābāṭa vyavahāra garnuparcha.
A recording of this text by Sarthak Sharma

Translation
All human beings are born free and equal in dignity and rights. They are endowed with reason and conscience and should act towards one another in a spirit of brotherhood.
(Article 1 of the Universal Declaration of Human Rights)
Details provided by Arvind Iyengar and Arnav Darnal.
Sample videos in Nepali
Information about Nepali | Phrases | Numbers | Colours | Family Words | Tower of Babel
Links
Information about the Nepali language
http://en.wikipedia.org/wiki/Nepali_language
https://www.britannica.com/topic/Nepali-language
https://www.ethnologue.com/language/npi
Online Nepali lessons
http://www.nepali.info/nepali/lessons/
https://nepalgo.de/
http://polymath.org/nepali.php
https://www.livelingua.com/courses/Nepali/
Nepali phrases
https://wikitravel.org/en/Nepali_phrasebook
http://the-voyagers.tripod.com/language.htm
http://mylanguages.org/nepali_phrases.php
http://www.digitalhimalaya.com/projectteam/
turin/downloads/nepali_primer.pdf
http://www.volunteersummernepal.org/learn-basic-nepali-2
Nepali fonts
http://www.nepali.info/nepali/fonts/
Online news in Nepali
http://www.arghakhanchi.com
https://ekantipur.com/
http://annapurnapost.com/
http://www.bbc.co.uk/nepali/
Pahari languages
Bilaspuri, Chambeali, Dogri, Doteli, Gaddi, Garhwali, Jaunsari, Kangri, Kumaoni, Kullui, Mahasu Pahari, Mandeali, Nepali, Pangwali, Sirmauri
Languages written with the Devanāgarī alphabet
Aka-Jeru, Angika, Athpare, Avestan, Awadhi, Balti, Bantawa, Belhare, Bhili, Bhumij, Bilaspuri, Bodo, Bhojpuri, Braj, Car, Chamling, Chhantyal, Chhattisgarhi, Chambeali, Danwar, Dhatki, Dhimal, Dhundari, Digaro Mishmi, Dogri, Doteli, Gaddi, Garhwali, Gondi, Gurung, Halbi, Haryanvi, Hindi, Ho, Jarawa, Jaunsari, Kannauji, Kham, Kangri, Kashmiri, Khaling, Khandeshi, Kharia, Khortha, Korku, Konkani, Kullui, Kumaoni, Kurmali, Kurukh, Kusunda, Lambadi, Limbu, Lhomi, Lhowa, Magahi, Magar, Mahasu Pahari, Maithili, Maldivian, Malto, Mandeali, Marathi, Marwari, Mewari, Mundari, Nancowry. Newar, Nepali, Nimadi, Onge, Pahari, Pali, Pangwali, Rajasthani, Rajbanshi, Rangpuri, Sadri, Sanskrit, Santali, Saraiki, Sirmauri, Sherpa, Shina, Sindhi, Sunwar, Sylheti, Tamang, Thakali, Thangmi, Wambule, Wancho, Yakkha, Yolmo
Page last modified: 22.11.22
[top]
---

Why not share this page:

If you like this site and find it useful, you can support it by making a donation via PayPal or Patreon, or by contributing in other ways. Omniglot is how I make my living.
Note: all links on this site to Amazon.com
, Amazon.co.uk
and Amazon.fr
are affiliate links. This means I earn a commission if you click on any of them and buy something. So by clicking on these links you can help to support this site.
Get a 30-day Free Trial of Amazon Prime (UK)
If you're looking for home or car insurance in the UK, why not try Policy Expert?
[top]