Armenian (Հայերէն)
Armenian is an Indo-European language spoken mainly in Armenia (Հայաստան [Hayastan]) and in Nagorno-Karabakh, a de facto, though unrecognised, independent republic in the Nagorno-Karabakh region of the South Caucasus. This area is also known as the Republic of Artsakh (Արցախի Հանրապետություն), and is recognised internationally as part of Azerbaijan. There are also Armenian speakers in many other countries, including Russia, Lebanon, the USA, Georgia, Iran, France, Syria, Turkey, Iraq, Uzbekistan and Ukraine.
Armenian belongs to its own independent branch of the Indo-European language family. It is not closely related to any other languages.
There are two main varieties of Armenian: Eastern Armenian (արևելահայերեն) and Western Armenian (արեւմտահայերէն). To educated speakers of either variety the other is more or less mutually intelligible.
Eastern Armenian has 2.9 million speakers in Armenia, where it is the official and most commonly-spoken language. There are also about 660,000 speakers of Eastern Armenian in the Dagestan Republic of the Russian Federation, 120,000 in Azerbaijan, and 100,000 in Iran. The total number of speakers is about 3.8 million [source].
The largest concentrations of Western Armenian speakers are found in Lebanon (294,000), the USA (238,000), Georgia (150,000), Armenia (73,000), France (70,000), Syria (65,000), Turkey (61,000), Iraq (60,000), Uzbekistan (60,000) and Ukraine (50,000). The total number of speakers is about 1.2 million [source].
Armenian is the offical language of Armenia and Nagorno-Karabakh, and has official status as a minority language in Cyprus, Hungary, Iraq, Poland, Romania and Ukraine. Until the the early 1990s schools in Armenian taught in either Armenian or Russian, however after the collapse of the USSR, Armenian became the main medium of instruction and the Russian-medium schools were closed. In 2010 Russian language education was reintroduced in Armenia.
Armenian at a glance
Native name: Հայերէն [hɑjɛˈɾɛn] (Hayeren)
Language family: Indo-European, Armenian
Number of speakers: c. 5 million
Spoken in: Armenia, Nagorno-Karabakh (Artsakh) Republic, Russia, Lebannon, the USA, Georgia, Iran, France, Syria, Turkey, Iraq, Uzbekistan, Ukraine, Turkmenistan, Canada, Greece, Jordan, Egypt, Bulgaria, Israel, Poland, Cyprus and Palestine
First written: 405 AD
Writing system: Armenian alphabet (Հայոց գրեր / Հայոց այբուբեն)
Status: official language in Armenia and Nagorno-Karabakh. Recognised minority language in Cyprus, Hungary, Iraq, Poland, Romania and Ukraine. Semi-official or de facto status in Georgia, Lebanon, Turkey, Iran and the USA (California).
A brief history of Armenian
Not much is known about the Armenian language before it was first written in the 5th century AD, though the Armenians are mentioned in inscriptions dating back to the 6th century BC.
The type of Armenian spoken and written in the 5th century is known as Classical Armenian, or գրաբար (grabar - "literary"). It contains numerous loanwords from Parthian, and also from Greek, Syriac, Latin and other languages such as Uratian. Grabar continued to be used as a literary language until the late 19th century.
The Armenian used between about the 11th and 15th century is known as Middle Armenian, or միջին հայերեն (mijin hayeren), and contains more loanwords from Arabic, Turkish, Persian, and Latin.
The two main modern forms of Armenian emerged during the 19th century when the traditional Armenian homeland was divided between the Russian and Ottoman Empires. Western Armenian developed among Armenians who had moved to Constantinople, while Eastern Armenian developed among Armenians living in Tbilisi in Georgia. Many newspapers in each of the variants were published and many schools for each variety were set up. This resulted in widespread literacy and to an increase in the amount of literature written in modern Armenian, rather than in the classical language.
Armenian alphabet (Հայոց գրեր / Հայոց այբուբեն)
In the late 4th century AD, King Vramshapuh (Վռամշապուհ) of Armenia asked Mesrop Mashtots (Մեսրոպ Մաշտոց), one of the officials in his chancellery and a prominent scholar, to create a new alphabet for Armenian. Before then, Armenian had been written with 'cuneiform' scripts, which was deemed unsuitable for religious works by the Armenian Church.
Mashtots travelled to Alexandria, where he studied the principles of writing and came to the conclusion that the Greek alphabet was the best alphabet in use at that time because there was an almost one-to-one correspondence between sounds and letters. He used this model to come up with a new alphabet, which he presented to the king when he returned to Armenia in 405 AD. The new alphabet was well-received and a new Armenian translation of the Bible was published in 405 AD. Other literary works soon followed.
From the early 18th century until the 1950s some 2,000 books were published in Turkish written in the Armenian alphabet, and official documents produced during the Ottoman period were in the Armenian and Arabic scripts. The Armenian alphabet was used in the literature of Kipchak-speaking Armenian Orthodox Christians between 1524 and 1669. The poet Sayat-Nova used the Armenian alphabet to write poems in Azeri, and it was also the official script for Kurdish in Soviet Armenia from 1921-1928.
Notable features
Writing direction: left to right in horizontal lines
Used to write: Armenian, and formerly used for Turkish, Azeri, Kipchak and Kurdish
There are a few minor differences in the pronunciation of the letters between the two standard literary forms of Armenian: Western and Eastern.
Most of the letters have numerical values.
Eastern Armenian alphabet (Արևելահայերեն [Arevelahayeren])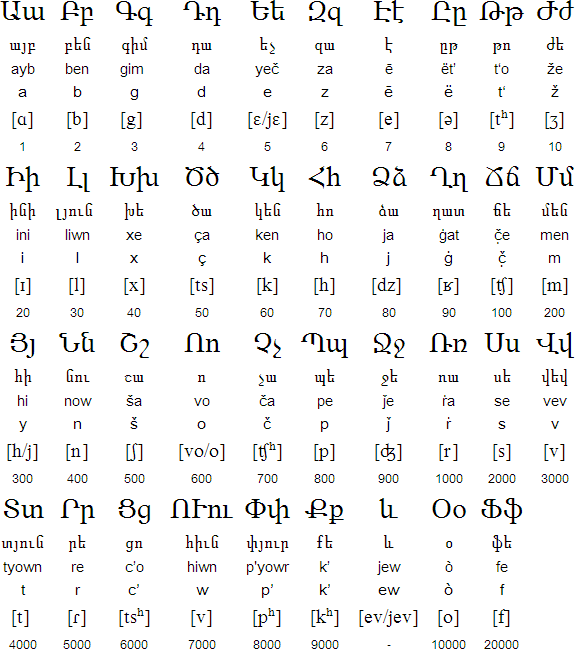 Hear the Eastern Armenian alphabet
Western Armenian alphabet (Արեւմտահայերէն [Arevmdahayeren])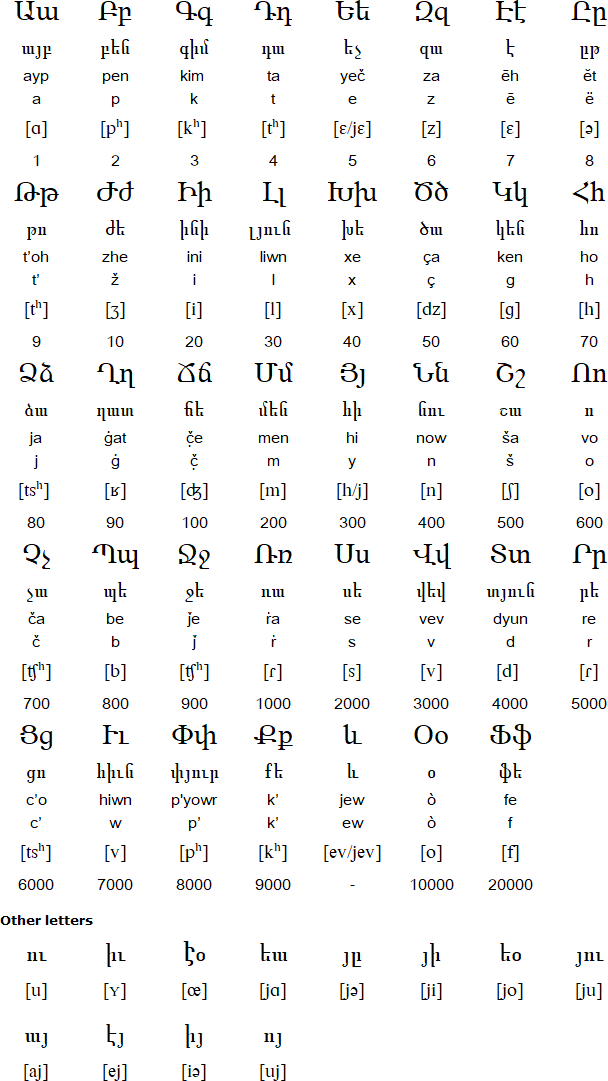 Hear the Western Armenian alphabet
Armenian alphabet learning game
How to write the Armenian alphabet
Armenian punctuation

Differences between Eastern and Western Armenian
Regular differences in pronunciation between Eastern Armenian and Western Armenian.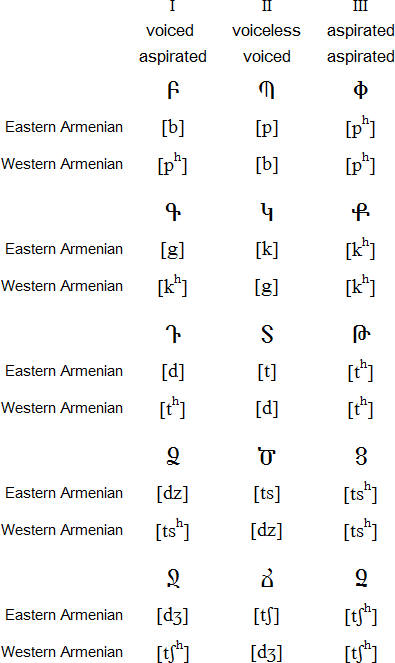 Additionally, "Ռ" an "Ր" – both rolled Rs /r/ – have no distinction in sound in Western Armenian, whereas "Ռ" is rolled more strongly than "Ր" in Eastern Armenian. Eastern Armenian has distinct sounds for all fifteen letters above.
Western Armenian sounds for letters under columns I and III match exactly within Western Armenian. (Spellings of words must necessarily be learned, as one consequence.)
Eastern Armenian sounds for letters under Column I have shifted to become the sounds for letters under Column II in Western Armenian.
Eastern Armenian sounds for letters under Column II do not exist in Western Armenian. (Speakers of Western Armenian often have trouble even hearing those sounds.)
Spellings of proper names are often the same in Western Armenian and Eastern Armenian (except for new words that have come up in the past century or two), but their pronunciations – and therefore, transliteration into other scripts – differ. An Eastern Armenian speaker would call himself "Grigor" and his father "Petros", while a Western Armenian speaker would call himself "Krikor" and his father "Bedros", both writing out their names in Armenian in exactly the same way.
Besides differences in grammar and vocabulary, Eastern Armenian also underwent an orthography reform, so Armenian written in the former USSR and by Armenians of the former Soviet Union uses the new spelling system, while the Eastern Armenian used by Armenians in Iran maintains the classical spelling system, almost fully matching with Western Armenian orthography.
Information compiled by Nareg Seferian
Downloads
Download Armenian alphabet charts in Excel or PDF format
Sample text in Eastern Armenian

Transliteration
Bolor mardik c'nvowm en azat ow havasar' irenc arjhanapatvowt'yamb ew iravownqnerov: Nranq o'jhtvac' en banakanowt'yamb ow xghtwov, ew partavor en mimyanc nkatmamb varvel eghbayrowt'yan ogov:
Hear a recording of this text by Nareg Seferian
Sample text in Western Armenian (by Nareg Seferian)

Transliteration
Polor martig gy' dz'nowin azad ew hawasar irenc arjhanabadowowt'eamp ew irawownqnerov. Irenq o'jhtowadz' en panaganowt'eamp ow xightwov, ew bardaworowadz' en mimeanc hante'b eghpayrowt'ean oqiov varowil.
Hear a recording of this text by Nareg Seferian
Translation
All human beings are born free and equal in dignity and rights. They are endowed with reason and conscience and should act towards one another in a spirit of brotherhood.
(Article 1 of the Universal Declaration of Human Rights)
Sample videos in Armenian
See more videos like this on Wikitongues
Information about Armenian | Phrases (Eastern Armenian) | Phrases (Western Armenian) | Numbers (Eastern Armenian) | Numbers (Western Armenian) | Family words (Eastern Armenian) | Family words (Western Armenian) | Tower of Babel (Eastern, Western & Classical Armenian)
Links
Information about the Armenian language
http://en.wikipedia.org/wiki/Armenian_language
https://www.ethnologue.com/language/hye
Online Armenian lessons
http://www.cilicia.com/armo_lesson000.html
http://www.armeniapedia.org/index.php?title=Armenian_Lessons
http://hayeren.hayastan.com
http://polymath.org/armenian.php
Armenian phrases
http://www.ilanguages.org/armenian_phrases.php
http://learn101.org/armenian_voc500.php
http://mylanguages.org/armenian_phrases.php
/> https://wikitravel.org/en/Armenian_(Eastern)_phrasebook
http://www.armeniapedia.org/index.php?title=Armenian_Phrases
http://www.littlearmenia.com/html/language/
Free Armenian fonts
http://www.wazu.jp/gallery/Fonts_Armenian.html
http://www.hayfonts.com
https://fonter.am/
https://armenia.renderforest.com/eng-pages/free-fonts.html
https://arm-fonts.com/
Online Armenian transliterators and spell checkers
http://am.translit.cc
http://www.translitteration.com/transliteration/en/armenian-eastern-classical/iso-9985/
http://www.translitteration.com/transliteration/en/armenian-western/ala-lc/
Online Armenian dictionaries
http://www.nayiri.com/
http://translator.am/en/index.html
http://dictionary.hayastan.com/index.php
Online Armenian news
http://www.armenialiberty.org/
https://aspirantum.com/blog/the-most-popular-armenian-news-and-media-outlets
Online Armenian radio
http://www.hairenik.com
http://www.armenialiberty.org/
http://www.radiovan.am
Language written with the Armenian alphabet
Armenian (Eastern and Western), Armeno-Turkish
A-chik Tokbirim, Adinkra, ADLaM, Armenian, Avestan, Avoiuli, Bassa (Vah), Beitha Kukju, Borama / Gadabuursi, Carian, Carpathian Basin Rovas, Chinuk pipa, Chisoi, Coorgi-Cox, Coptic, Cyrillic, Dalecarlian runes, Elbasan, Etruscan, Faliscan, Fox, Galik, Georgian (Asomtavruli), Georgian (Nuskhuri), Georgian (Mkhedruli), Glagolitic, Global Alphabet, Gothic, Greek, Irish (Uncial), Kaddare, Kayah Li, Khatt-i-Badí', Khazarian Rovas, Koch, Korean, Latin, Lepontic, Luo Lakeside Script, Lycian, Lydian, Manchu, Mandaic, Mandombe, Marsiliana, Medefaidrin, Messapic, Mongolian, Mro, Mundari Bani, Naasioi Otomaung, N'Ko, North Picene, Nyiakeng Puachue Hmong, Odùduwà, Ogham, Old Church Slavonic, Oirat Clear Script, Ol Chiki (Ol Cemet' / Santali), Old Italic, Old Nubian, Old Permic, Ol Onal, Orkhon, Osage, Oscan, Osmanya (Somali), Pau Cin Hau, Phrygian, Pollard script, Runic, Székely-Hungarian Rovás (Hungarian Runes), South Picene, Sutton SignWriting, Sunuwar, Tai Viet, Tangsa, Todhri, Toto, Umbrian, (Old) Uyghur, Wancho, Yezidi, Zaghawa, Zoulai
Page last modified: 02.07.23
[top]
---

Why not share this page:

If you like this site and find it useful, you can support it by making a donation via PayPal or Patreon, or by contributing in other ways. Omniglot is how I make my living.
Note: all links on this site to Amazon.com
, Amazon.co.uk
and Amazon.fr
are affiliate links. This means I earn a commission if you click on any of them and buy something. So by clicking on these links you can help to support this site.
Get a 30-day Free Trial of Amazon Prime (UK)
If you're looking for home or car insurance in the UK, why not try Policy Expert?
[top]