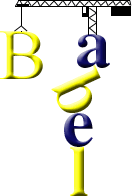 Babel Tausangpi (The Tower of Babel)
Chin Tedim
Tua laitakin leitung buppi in kampau khat leh kammal tawmno bek nei hi.
Amaute, nisuahna lamah lal uh a, Shinar gam sungah zanglei mun khat mu-in tua lai-ah a teng uh hi.
Amaute khatlekhat kiangah, "Hong pai un, leiseek seekin limtakin hal ni," kici uh hi. Amaute in suang dingin leiseek nei uh a, a buan dingin kultal tui nei uh hi.
Tua ciangin amaute in, "Hong pai un, leitung buppi-ah eite i kithehthang gawp lohna dingin ei-a' dingin khuapi khat bawlin, a dawn in vantung a ban ding tausang khat lamin, eite' minthan'na ding khat bawl ni," ci uh hi.
Tua ciangin mihingte' lamsa khuapi leh tausangpi a en dingin Topa hong paisuk hi.
Topa in, "En un, amaute minam khat hi uh a, amaute khempeuh in kampau khat nei uh hi. Hih pen amau' sep ding a kipatna bek ahi hi. Tu-in sep dinga amau' vaihawmte amau-a' dingin hi thei nawnlo ding hi.
Hong pai un, amaute khatlekhat' thugen a kitheih lohna dingun eite paisukin amau' kampau va kitukalhsak ni," a ci hi.
Tua ahih ciangin Topa in tua lai panin leitung khempeuhah amaute thehthang a, a khuapi bawl uh a tawp uh hi.
Tua ahih ciangin a min Babel kici hi. Bang hang hiam cih leh Topa in tua munah leitung khempeuh' kampau kitukalhsak hi. Tua lai mun panin Topa in leitung khempeuhah amaute a thehthang hi.
Chin Tedim is a member of the Tibeto-Burman branch of the Sino-Tibetan language family spoken by about 340,000 people in Burma and India.
Tower of Babel in Tibeto-Burman languages
Achang, Angami, Burmese, Chang, Chin Falam, Chin Haka, Chin Tedim, Gangte, Hrangkhol, Jingpho, Karbi, Karen, Konyak, Kuki, Ladakhi, Lahu, Lashi, Lhao Vo, Liangmai Naga, Lisu, Garo, Hmar, Mara Chin, Mizo, Paite Chin, Phom (Naga), Poumei (Naga), Siyin, Sunuwar, Tangkhul, Tibetan, Vaiphei, Wancho (Naga), Zeme
Other Tower of Babel translations
By language | By language family