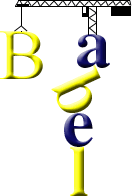 The Tower of Babel (Genesis 11: 1-9)
Wancho (Naga)
Babilon angkya Long-hom
Owangpong ma zangfang angkya khünaknu nok wüi kax tuita ma akaxle tüikya ilaxle hwome zangwün tuita ma wün.
Hwom handün chito hamhamle lekya zuma Shinar le nyakkya haxshanu hato ngui ilaxle ikhama tingtan-nokzingle ngo.
Hwome tata füi ile akax: "Oman, kemepi haxhuak-long zinghax." Ile hwome long lüi ma haxhuak-long lax ilaxle ibu to atsam ang hwome kom-hax lax.
Ifüima hwome thüi: "Kem mün naxngo ang tamchu kem fong chifan angkya hanpakma, oman, kemepi tingnu tuita zingle alaihax ilaxle ikhama ding to thukya longhom tuita zaile alaihax."
Ifüima khünakbu zingkya tingnu hia longhom to hu ang Jowanpa ngui.
Ilaxle chixe thüi: "Hulax hwom a khünaknu tuita, hwom ang zangwün tuita wüi changle; ija a hwome mok angkya sütwang-mwotwang tix changpu. Hwome mok ang azuakya mwot pangwüi mokle tsuak angkya changa!
Oman, juhax! Hwom ang tsaikho-kaxkho asamle koxhax, ikoxtix hwome tata zangwün chitsingle changüi."
Ile Jowanpae hwom ikha angkya chaxwannu thün awangle chiakle pao ang tom. Hwome zingle ngokya longhom a chitsuak homle athole tox.
Idaile ikha ang "Babel", le nyak, chemthüikoxle ikhama Jowanpae zangfang angkya khünaknu zangwün matsai-makaxkax ang achangle koxkya changle; ikha angkya hwom Jowanpae chaxwannu thün awangle chiakle asam.
Source: Pongwang Laipex (Genesis). Otsao Baibel. The Bible in Wancho Naga. Bible Society of India, 2012.
Contributed by Wolfgang Kuhl
Wancho is a Tibeto-Burman language spoken in Arunachal Pradesh, Assam and Nagaland in India.
More information about Wancho (Naga)
http://en.wikipedia.org/wiki/Wancho_language
http://www.ethnologue.com/language/nnp
Tower of Babel in Tibeto-Burman languages
Achang, Angami, Burmese, Chang, Chin Falam, Chin Haka, Chin Tedim, Gangte, Hrangkhol, Jingpho, Karbi, Karen, Konyak, Kuki, Ladakhi, Lahu, Lashi, Lhao Vo, Liangmai Naga, Lisu, Garo, Hmar, Mara Chin, Mizo, Paite Chin, Phom (Naga), Poumei (Naga), Siyin, Sunuwar, Tangkhul, Tibetan, Vaiphei, Wancho (Naga), Zeme
Other Tower of Babel translations
By language | By language family