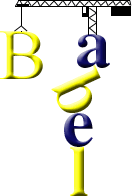 The Tower of Babel (Genesis 11: 1-9)
Tangkhul
Babelwui Dolan
Chitharan okathui katongwui tuiyur akha manga, tuikhurla machungmana.
Kala zimikshoshong khavabingna Shinar ngaleili tampak akha leisada chili asoma.
Kala athum eina athum ngazek ngarokta hanga. "Chek semlaga mathalak eina rikkhuisa." Chithada athumna ngalungwui mahut chek rikkhui laga napkhavai khe yur akha shichina.
Chiwui thili ngazekluida hanga, "Rasrelu, keinung akha sakhuida dolan shim kachuiva akhala aton kazingram kazokta sakhuisa, kaja ithum maikakhavai sasa, chi maning akha ithum hi okathui apam hupta ngaphayang howra."
Prohona miwui naobingna sakahai keinung eina dolan shim chi yangkhavai tai.
Kala Prohona hanga, "Yanglu, athum hi yur akha manga kala tuila akha manga; athumna saki kachi hina kharena, kala athumna sarada hangkahai chi masakharar maleilui mara.
Ralu, ithumna athumwui tui pangapami howsa; akhana akhawui tui masharanu."
Chithada sada Prohona athumli okathui apam kachida ngapha ngasakhaowa, kala keinungla masaluila horhaowa.
Chiwui vang eina apam chiwui aming Babel hoi kaja apam chili Prohona mikumowui tui ngateimiser haowa, kala chiwui eina athumli okathui peida ngayaova ngasaka.
Source: Kathara Bible. Tangkhul Naga. The Bible Society of India, Bangalore, 1978.
Contributed by Wolfgang Kuhl
Tangkhul is a Tibeto-Burman language spoken in Manipur, Nagaland and Tripura in the north east of India by about 125,000 people.
More information about Tangkhul
http://www.ethnologue.com/language/nmf
http://en.wikipedia.org/wiki/Tangkhul_language
Tower of Babel in Tibeto-Burman languages
Achang, Angami, Burmese, Chang, Chin Falam, Chin Haka, Chin Tedim, Gangte, Hrangkhol, Jingpho, Karbi, Karen, Konyak, Kuki, Ladakhi, Lahu, Lashi, Lhao Vo, Liangmai Naga, Lisu, Garo, Hmar, Mara Chin, Mizo, Paite Chin, Phom (Naga), Poumei (Naga), Siyin, Sunuwar, Tangkhul, Tibetan, Vaiphei, Wancho (Naga), Zeme
Other Tower of Babel translations
By language | By language family