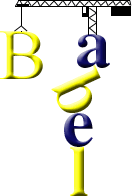 The Tower of Babel (Genesis 11: 1-9)
Karbi
Bebilon Ahemchardon
Kechengsi, pirthe adang kedo-an arat atum alam-aki isinat lapen isinat alamthe-heihei si ningjepet-lo.
Latum nihang anat dam bomsi, latum Bebilon athoi along nanglelo lapen hadak dodamlo.
Latum lahin lahin chepulo, "Vangnon! Eli ita selam lonang lapen lahei pherang-pame lonang." Lasonsi latum kekimji aphan ita dolo lapen lahei kerakji aphan ingchin arrita dolo.
Latum pulo, "Non eli isi sining-inghun kelerok ahemchardon arongsopi kimlonang, anke etum emethang amen pado thekpo lapen pirthe adang bithe-bitha pratsei nangnelo."
Anke rongsopi kelangjisi HEMPHU nanghirlo lapen halahei amonit atum kekim ahemchardon langsi,
Alangli pulo, "Non lahei arat kedo-an latum isinat alam si ningjelo; lake latum keklemji akam kechengsi lo. Latum keklemji aning kehang aling pachun-dapprangpo.
Eli damra latum alam paprek et-lonang, anke latum lahin lahin charju thekthe detpo."
Lasonsi latum aphan HEMPHU pirthe adang bithe papratseilo, lapen latum rongsopi kekim sangkok-lo.
Laso arongsopi Bebilon pulo, pima hadaksi HEMPHU arat kedo-an alam paprekjam lo, lapen hadak pensi Alangli latum aphan pirthe adang bithe papratseilo.
Source: Kecheng (Genesis). Baibel Kangthir. The Bible in Karbi Language. Bible Society of India, 2010.
Contributed by Wolfgang Kuhl
Information about Karbi | Karbi numbers | Tower of Babel in Karbi
Tower of Babel in Tibeto-Burman languages
Achang, Angami, Burmese, Chang, Chin Falam, Chin Haka, Chin Tedim, Gangte, Hrangkhol, Jingpho, Karbi, Karen, Konyak, Kuki, Ladakhi, Lahu, Lashi, Lhao Vo, Liangmai Naga, Lisu, Garo, Hmar, Mara Chin, Mizo, Paite Chin, Phom (Naga), Poumei (Naga), Siyin, Sunuwar, Tangkhul, Tibetan, Vaiphei, Wancho (Naga), Zeme
Other Tower of Babel translations