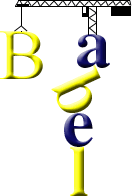 The Tower of Babel (Genesis 11: 1-9)
Zeme
Babel ge Hekihube
Railangbe ting â kedeireime leine helad kat runne bam zai samkie ramme du 'nzuâkam ze bam de lei.
Tingbia 'mbia ne hetîtigut dadege Shinar ramme bekâm yibe ngau lu chige lung di de lei.
Penui karai kat-kat je sa ze, "Kei lei! hegamkâng ramme teleu lu rû zu kei lei" ze kacheu de lei. Chidadege teleurabe hang hegam zai pecham hang mâta bam di de lei.
Penui ne sa ze, "Namdi tewchu ze hulangbe 'mpûm ze â tinggîm tûngchangrabeki tew zu kei lei, chidezai kedeirei ge anui ji di ze anui je tewtimrarip kai mak ra hangge zeu," ze kacheu lei.
Chidadege ziemmena name ne tewgaibe namdi benai heki hube pie ra hangge Tingwang wangkeu de lei,
zai pa ne rang ze, "Pie le lau, penui 'nteumena zat kat zai hekuâ-helad kat runne rei de lei; chuna â penui tew ra ka'nningbe ze bepîbang runne rei de lei. Penui tew ra 'nningpatkaibe tewchilakrabe mâ de bam dai ra mak te lei!
Kei lei, wangkeu zu kei lei, zai penui lad tewteguak kai be kei lei, dezai peize kat-kat lad chita de ra hangge zeu," ze kacheu de lei.
Chigum ze Tingwang ne penui je kedeirei pebâm gechâm-châm 'mbe hûrarip kai bei de lei, zai penui namdi tewchube ze sau di de lei.
Chipauziegene chi namdi ji ze Babel ze ku de lei, chige Tingwang ne kedeireime leine lad tewteguakkaibeibe ziegeneu, zai chipau bâm gene Tingwang ne penui je kedeu 'mbe kedeirei pebâm gechâm-châm 'mbe hûtimrarip kai bei de lei.
Source: Jenesis (Genesis). Kemci Bible. The Bible in Zeme Naga. Bible Society of India. 2009.
Contributed by Wolfgang Kuhl
Zeme is a Tibeto-Burman language spoken in Manipur, Nagaland and Tripura in India.
More information about Zeme
http://en.wikipedia.org/wiki/Zeme_language
http://www.ethnologue.com/language/nzm
Tower of Babel in Tibeto-Burman languages
Achang, Angami, Burmese, Chang, Chin Falam, Chin Haka, Chin Tedim, Gangte, Hrangkhol, Jingpho, Karbi, Karen, Konyak, Kuki, Ladakhi, Lahu, Lashi, Lhao Vo, Liangmai Naga, Lisu, Garo, Hmar, Mara Chin, Mizo, Paite Chin, Phom (Naga), Poumei (Naga), Siyin, Sunuwar, Tangkhul, Tibetan, Vaiphei, Wancho (Naga), Zeme
Other Tower of Babel translations
By language | By language family