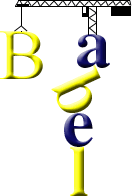 The Tower of Babel (Genesis 11: 1-9)
Poumei (Naga)
Babel Kipeitaoh
Arai hi deiphao mai hrülai hai khola ali baie.
Maihrü hai teinghi palova hrüsho poa veyu phaki, puletao nou Shinar (Babilon) hinou deikho ali ngaoloua sühinou füsho loure.
Puletao hai alinou alihi haibüa paoe, "Khe Etao konai taoloua mei deithou naichuh soulou laikhe." Sübüa puletao nou naichuh souloure alia süna mea loure chuhnai-a souloure.
Süthaisü puletao nou paoe, "Etao nuhdu ali soushu loua sühinou ratei khe nghiyu kipeitaoh ali soulou laikhe, alia sükua Etao kathe souloua deiphao holo hailo ratalai mokhe."
Süthaisü Mapao nou takou deiphao mainou soukhai touyu nuhdu ae kipeitaoh nasü zhuloua,
haibüa paoe, "Zhukhaio, puletao hai maitya ali baie ae la-a ali baie, alia haisü puletao nou soupfüa koulaiyu taohi soushu araina bai hie; puletao nou soulai tea lichoyu nasü soulou hoyu hashu laire.
Etao takouh loua puletaoye panou alinou ali la sülou hore donou puletao la hai soubüsa peilai khe."
Sübüa nou Mapao nou puletaoye deiphao holo hailo pora tare alia puletao nou nuhdu soushuyu nasü thaokhaire.
Süvanou haina zhih hai Babel tea sapeie, daiolouzü sühinou Mapaonou deiphao mai la soukuku peie ae sühinou Mapao nou puletaoye deiphao holo hailo pora tapeie.
Source: Shurai (Genesis). Sheeyu Baibel. The Bible in Poumei Naga. Bible Society of India, 2009.
Contributed by Wolfgang Kuhl
Poumei is a Tibeto-Burman language spoken in Manipur in India.
More information about Poumei (Naga)
http://www.ethnologue.com/language/pmx
Tower of Babel in Tibeto-Burman languages
Achang, Angami, Burmese, Chang, Chin Falam, Chin Haka, Chin Tedim, Gangte, Hrangkhol, Jingpho, Karbi, Karen, Konyak, Kuki, Ladakhi, Lahu, Lashi, Lhao Vo, Liangmai Naga, Lisu, Garo, Hmar, Mara Chin, Mizo, Paite Chin, Phom (Naga), Poumei (Naga), Siyin, Sunuwar, Tangkhul, Tibetan, Vaiphei, Wancho (Naga), Zeme
Other Tower of Babel translations
By language | By language family