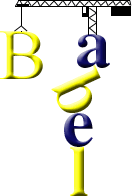 The Tower of Babel (Genesis 11: 1-9)
Rangkhawl (Hrangkhol)
Babel in irsâng
Khanchu irnêng chunga mi murdi hi chong hmunkhat, thuhril lam hmunkhat an ni vinga.
Khan hiang hi a nia, nisua tiang an irthon laiin Sinar rama phâizôl an hmua; kha hmun khan om hmun an khuara,
khan "Tho pilrôngar siam ei ta, a sate'n hâl inhmin ei ti," an irtia. Khanchu lung irthûlin pilrôngar hmangin âlkatara leh inluanin.
Khanchu, "Tho khopui siam ei ti, in irsâng a sîp irzumin irvân sun rakin siam ei ta, ei irhming an thang theina hrangin, khano'nchu irnêng chunga hin irthek indarh zoiin om ei ti," an tia.
Khan, Rengpa'n chu mihriam nâihaiin khopui le in irsâng an isin en hrangin a zuanga;
khan,Rengpa'n "Irngai roi, hi mihai hi pumkhat an nia; hi sin hi iphut a ni; atûn chu hi thil an itho hi khap thei zât khom ni ta no ni.
Tho zu fe ei ta, chong an irhlet thei loina hrangin an chong zu'ndanglam pehai ei ti," a tia.
Khatak ata Rengpa'n annihai kha irnêng chunga a'rthek indartirhaia: khanchu an khua siam kha an mâksana;
khasikin a'rhming khom Babel an phuaa;Rengpa'n kha ni rengata kha irnêng chunga mihai hi chong dangin an chongtirhaia, a irthek indartirhai a ni ta.
Source: Irphutna (Genesis). Pathian Lekhabu Irthiang. The Bible in Hrangkhol language.
Contributed by Wolfgang Kuhl
Hrangkhol is a member of the Kukish branch of Tibeto-Burman languages spoken by about 19,000 people in southeast Manipur and parts of Assam in India, and in Burma.
More information about Hrangkhol
http://en.wikipedia.org/wiki/Hrangkhol_language
http://www.ethnologue.com/language/hra
Tower of Babel in Tibeto-Burman languages
Achang, Angami, Burmese, Chang, Chin Falam, Chin Haka, Chin Tedim, Gangte, Hrangkhol, Jingpho, Karbi, Karen, Konyak, Kuki, Ladakhi, Lahu, Lashi, Lhao Vo, Liangmai Naga, Lisu, Garo, Hmar, Mara Chin, Mizo, Paite Chin, Phom (Naga), Poumei (Naga), Siyin, Sunuwar, Tangkhul, Tibetan, Vaiphei, Wancho (Naga), Zeme
Other Tower of Babel translations