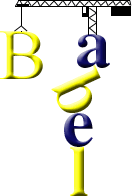 The Tower of Babel
Kuki
Babel Insang Kisah
Hiche lai chun leiset pumpia mi pao khat bo ahin, apao cheng manu jong tha khat cheh anahi.
Chuin niso lama konin ahung khochauvun ahile Shinar gamsunga chun phaicham mun khat amudoh-uvin, hikoma chun achengtauve.
Hichun amaho khat le khat akihouvun, "Hunguvin cheh gadengu hitin goutah lhengu hite," akitiuvin; hiti chun song panna pang dingin cheh amanguvin, song lou dingin leingan amanguve.
Chujouvin amahon jong, "Hunguvin khopi khat kisah uhitin, chule insang khat atingvum vantoh kibang khat sadoh uhitin, imin kithan sah uhite, achutiloule leiset chunga ikimoh thethang gam dingu ahi," atiuvin.
Chuin mihem chapate khopi sahdoh chuleh ainsang sahdoh-u chu ve dingin Pakai ahung kum lhatai.
Pakaiyin jong, "Vetan amaho hi mihem jat khatseh ahiuvin, pao khatbou athouve; chule hiche hi ipi ahinbol thei dingu ham ti akipatna bo ahi nalaiyin, hijeh chun tua pat hin bol dinga agot jouseu chu abolmou hong umlou hel ding ahi.
Hunguvin, kum lhau hitin apaovu gasuh khen peh uhite, chuti le khat le khat athusei kihet mon umtauvinte." ati.
Hiti chun Pakaiyin chukom muna kon chun leiset chung chansoh helin amaho chu ahin the thangsoh keiyin ahile amahon jong akhopi sah banu jong angatauve.
Hijeh a chu hiche khopi chu amin Babel kisah ahi, ijeh-inem itile hikom muna chu Pakaiyin leisit mite pao asuh khenpeh ahin, chule hikoma kona chu Pakaiyin abonchauva leiset chung chansoh a ahinthe thangsoh kei ahitai.
Source: Pathen Lekhabu Theng. Kitepna Lui E Le Kitepna Thah. Kigom. The Holy Bible in Kuki. The Bible Society of India, Bangalore, 1981.
Contributed by Wolfgang Kuhl
Information about Kuki
http://en.wikipedia.org/wiki/Kukish_languages
Tower of Babel in Tibeto-Burman languages
Achang, Angami, Burmese, Chang, Chin Falam, Chin Haka, Chin Tedim, Gangte, Hrangkhol, Jingpho, Karbi, Karen, Konyak, Kuki, Ladakhi, Lahu, Lashi, Lhao Vo, Liangmai Naga, Lisu, Garo, Hmar, Mara Chin, Mizo, Paite Chin, Phom (Naga), Poumei (Naga), Siyin, Sunuwar, Tangkhul, Tibetan, Vaiphei, Wancho (Naga), Zeme
Other Tower of Babel translations
By language | By language family