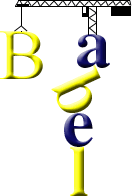 The Tower of Babel (Genesis 11: 1-9)
Phom (Naga)
Babel Shangdü
Shaang kahdoknyü kemeilei shahlem hük hatü shahjük aihük mü nyu.
Jom heong lemei daishingkü jomi Shinarlei kahji hük heü, hatü halei nyu.
Jom hüki hük kü, "Kei, jeni itayaong lingei meishi jakshah" shei etei. Jomi yaong nangjei itayaong ling hatü cement, bhih hatü yung nangjei müh yahteke.
Hapheikü jomi, "Kei, jeni jen shing chingnyü longpü hük lingshah hatü shangdü hük vangsho thahshi lingshah, shejüang jenei men nyuhen hatü jen kahdoknyü bahiyang kü neyandai-i nyuhen" shei etei.
Hahepak kü Shembüpai hapa chingnyü, hatü shennyakthüi vepü shangdü kü veihen yiüteke.
Shembüpai, "Aihük shennyakthü aihük shah etü hapakei dükjema, jomi tempü meheyao neaokpeih shei nenyu-ükhih.
Kei, jen yiüei hüki epü hüki nedanhen mü jomei shah buktükshah" shei e.
Hanangkü Shembüpai kahdoknyü bahiyang peü lemei jom yantük hatü chingnyü nelingi tuhphong.
Hanangkü hapa kü Babel shei nyük; mehenangkü halei Shembüpai kahdoknyü peüei shah nepongpaüi buktük, hatü Shembüpai kahdok shak peülei jom yantük.
Source: Kahbhao (Genesis). Daülangpü Laihing. The Bible in Phom Naga. Bible Society of India, 2005.
Contributed by Wolfgang Kuhl
Phom is a Tibeto-Burman language spoken in Nagaland in north-eastern India.
More information about Phom (Naga)
http://en.wikipedia.org/wiki/Phom_language
http://www.ethnologue.com/language/nph
Tower of Babel in Tibeto-Burman languages
Achang, Angami, Burmese, Chang, Chin Falam, Chin Haka, Chin Tedim, Gangte, Hrangkhol, Jingpho, Karbi, Karen, Konyak, Kuki, Ladakhi, Lahu, Lashi, Lhao Vo, Liangmai Naga, Lisu, Garo, Hmar, Mara Chin, Mizo, Paite Chin, Phom (Naga), Poumei (Naga), Siyin, Sunuwar, Tangkhul, Tibetan, Vaiphei, Wancho (Naga), Zeme
Other Tower of Babel translations
By language | By language family