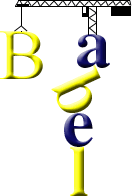 The Tower of Babel (Genesis 11: 1-9)
Gangte
Babel Insang
Chun, lei a mi chengcheng chuh pau khat leh thugen dan kibang ahi chiet u a.
Chun, hiti hi ahi a, suohlam zuona a kichawn zel lai u chun Shinar gam ah phaicham khat a muu a; zie tak achun a cheng tau a.
Tichun, amau chun, "Hung tiem u, chêk siem hiting un, pha tak in hâl hitiu," a kitiu a. Tichun suong thasang in chêk a mang u a, a châlna dingin thingnai a mang u a.
"Khai, hung tiem u, khawpi kisiem hiting un, insang a sip in van supha hiel dingin sai ting un, I min uh suthang hitiu; khutilochun lei chung pumpi ahin thehzak in um khâi tiu," a kitiu a.
Chun, Lalpa chuh mihiem chate'n khawpi leh insang a sak u chuh en dingin a hungsuk a,
Lalpa chun, "Ngaitiem u, mihiemte hi pumkhat ahiu a, a bawn un pau khatin a pau ngâl u a, ziehi ahi thil ahih pat nau chuh, tuhin chuh a thil guot hawu mawngmawng hi khapsak guol hita lo ding ahi.
Hung tiem u, chieh hiting un, pau a kihettuoh lohna dingun zie tak a khun a pau uh va sukbuoi sak hitiu," a ti a.
Khutichun Lalpa'n amau haw chuh zie akipat chun lei chung chengcheng achun a thehzak ta a; tichun a khawpi sak u chuh a haihsan tau hi.
Zieziekchun a min chuh Babel a tiu hi; zie tak achun Lalpa'n leia mi chengcheng pau chuh a sukzatchuom tâk ziekin; zie apat chun amau haw chuh lei chung chengcheng achun a kithehdalh tau hi.
Source: Thilsiembul (Genesis). Pathien Lekhabu Thiengtho. The Bible in Gangte language.
Contributed by Wolfgang Kuhl
Gangte is a member of the Kukish branch of Tibetan Burman languages spoken in Manipur, Meghalaya and Assam states in north east India.
More information about Gangte
http://en.wikipedia.org/wiki/Gangte_language
https://www.ethnologue.com/language/gnb
Tower of Babel in Tibeto-Burman languages
Achang, Angami, Burmese, Chang, Chin Falam, Chin Haka, Chin Tedim, Gangte, Hrangkhol, Jingpho, Karbi, Karen, Konyak, Kuki, Ladakhi, Lahu, Lashi, Lhao Vo, Liangmai Naga, Lisu, Garo, Hmar, Mara Chin, Mizo, Paite Chin, Phom (Naga), Poumei (Naga), Siyin, Sunuwar, Tangkhul, Tibetan, Vaiphei, Wancho (Naga), Zeme
Other Tower of Babel translations
By language | By language family