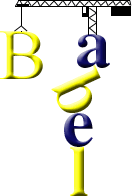 The Tower of Babel (Genesis 11: 1-9)
Pohnpeian / Ponapean
Imwen Doulik en Papilon
1. Nin tapio, tohn sampah koaros ahnekipene soangen mahsenteieu, pwe re kin doadoahngki soangen lepin mahsen kan me duwepenehte wasa koaros.
Ni ar mwekimwekidlahng palimese, re ahpw lel wasa patapat kis nan Papilonia, wasa re kousoanla ie.
Irail eri ndapene nanpwungarail, "Nna, kitail umwunda pwehl oh wiahkihda lepin takai." Eri, re ahpw wiahda lepin takai pwehl, mehn Kou ihmw, oh pil onopada tahr, mehn kapasapene takai ko.
Irail ahpw nda, "Eri, met kitail wiahda ehu kahnimw, oh ehu imwen doulik, me imwi pahn leldalahng pahnlahng, pwe kitail en ndandla oh dehr mwarakpeseng wasa kan nin sampah."
KAUN-O eri ketidi pwe en mahsanih kahnimwo oh imwen douliko me aramas ako kauwadahr.
E ahpw mahsanih, "Eri, aramas pwukat koaros wiahki ehu, oh re kin lokaiahki lokaiateieu; met iei tepin me re pahn wiewia kohwei. Mwurin met re pahn mwadangete kak wiahda soahng koaros me re anahne.
Eri, kitail kohdihwei oh kapingada ar lokaia, pwe re en dehr wehwehkipene ar lokaia kan."
KAUN-O eri ketin kalipeihrpeseng ong wasa koaros nin sampah. Irail eri tokedihsang ar wiewia kahnimwo.
Kahnimwo adaneki *Papilon, pwehki iei wasao me KAUN-O ketin kapingada lokaiahn aramas koaros, oh sang wasao me e ketin kalipeihrpeseng ong wasa koaros nin sampah.
*Papilon: Sisen ahd wet ekis duwehte sisen lepin mahsen en Ipru me wehwehki "kapingada."
Source: Pwuhk Sarawi. Audaudki Kahdehde Mering Iangahki Deuterocanon Oh Kadehde Kapw Ni Mahsen En Pohnpei. The Old Testament, Deuterocanon & New Testament in the Pohnpeian Language. United Bible Societies, 1994.
Contributed by Wolfgang Kuhl
Information about Paama
http://en.wikipedia.org/wiki/Pohnpeian_language
http://www.ethnologue.org/language/pon
Tower of Babel in Malayo-Polynesian Languages
Acehnese, Adzera, Amarasi, Ambrym, Anuki, Are, Balinese, Bambam, Bariai, Batak Angkola, Batak Simalungun, Batak Toba, Biatah Bidayuh, Bola, Bugis, Caribbean Javanese, Dawan, Fijian, Helong, Hiri Motu, Iban, Indonesian, Jarai, Kadazandusun, Kahua, Kakabai, Kambera, Kaninuwa, Kenyah, Kurti, Javanese, Luang, Madurese, Makassar, Malagasy, Malay, Mbula, Misima-Paneati, Motu, Nali, Ngaju, Nias, North Efate, Nyindrou, Paama, Palawano, Rade, Rotuman, Saveeng Tuam, Suau, Sundanese, Timugon Murut, Tolai, Tontemboan, Toraja-Sa'dan, Tungag, Ubir, Wandamen, Yabem
Other Tower of Babel translations
By language | By language family